Renault meets request from Vatican for green transport.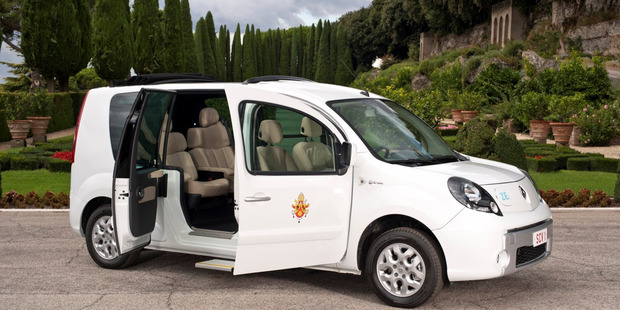 He's unlikely to be doing high-speed laps of the Vatican in it, but the Pope might be one step closer to God with his latest planet-saving wheels.
The Vatican has two new electric vehicles custom-made to meet the mobility needs of Benedict XVI, who is nicknamed the "green Pope". The eco-friendly mini Popemobiles were donated by French carmaker Renault, and delivered last week to the Pope's summer residence in the small Italian town of Castel Gandolfo.
One of the cars, for use by the Catholic leader at the summer home, is white with the papal coat of arms on its doors. It's modelled on Renault's Kangoo Maxi ZE and will see His Holiness travelling at a sensible pace on a 44kW electric motor, with lithium-ion battery pack. The papal Kangoo can travel up to 170km on one charge - ideal for the Pontifical Villas in Castel Gandolfo, which cover 55ha.
The vehicle is described by Renault as the "ecological, sustainable-development version of the Popemobile" and is 4.6m long, 1.8m wide.
The second electric vehicle is similar but blue with a white and yellow stripe and will be used by the Pope's security guards in the Vatican.
The two vehicles were converted especially by French constructor-coachbuilder Gruau to seat up to four people. They have an opening roof, removable side windows and electrically folding doorsteps, ideal for the 85-year-old.
The vehicles are seen as the perfect fit for the Pope, who is a strong advocate of sustainable development and environmental issues. He has had photovoltaic cells installed in the Vatican's main auditorium and is part of a reforestation project to offset carbon dioxide emissions. The Holy See reportedly aims to have 20 per cent of its electricity provided by renewable energy by 2020.
Mercedes-Benz, which makes the official Popemobile with bullet-proof windows, has been studying a hybrid, energy-saving model but that hasn't yet come to fruition. With three electric vehicles already at the Vatican (one earlier donated to the Vatican's press by Italian automaker NWG), there might not be a need. Unless the papal gardener's wanting to go green as well.