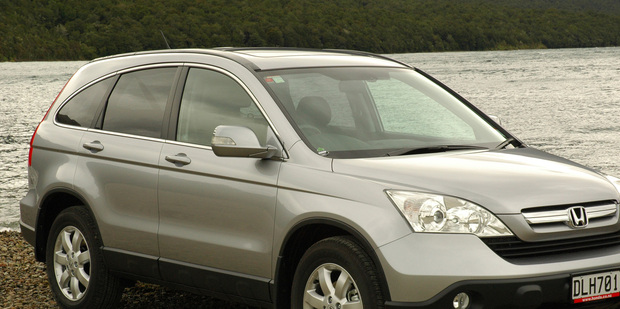 The dilemma
Ricky and his wife are a two-car family - a Mercedes-Benz C-Class sedan and a Subaru Legacy wagon - but times are a changin' for the couple.
"We are seriously thinking of replacing the two cars with a mid-sized SUV or crossover, and perhaps a budget hatchback like a Honda Fit.
"We are not very outdoorsy, but do like the occasional camping trip once a year, which is where the Legacy really comes into its own. The C-Class tends to be my wife's daily commuter and the weekend mall cruiser."
Ricky already has a shortlist - Nissan Murano, Toyota RAV4, Honda CRV - based on looks and brand value, but would like some more advice on build quality and value for money.
"We are probably not looking at brand-new models, but definitely less than five years old."
As all these vehicles are from Japanese manufacturers, Ricky, build quality is not really an issue and overall running costs should be a lot less than the Mercedes for all three.
All come highly spec'd in terms of comfort and safety as well, but always do final checks as some model variants can have lesser features fitted as standard equipment.
Vehicle stability control and side-curtain airbags should be high on your priority list in this price bracket.
The budget:
$35,000
The shortlist
Nissan Murano
The Murano is the largest vehicle on your list and will be the thirstiest of the three (average 12l/100km but expect that to climb on a cold engine around town). The larger 3.5-litre V6 engine will provide a smooth drive while the interior space should easily accommodate your lifestyle. We are aware of issues on some of the earlier models with the constant variable transmissions (mainly oil leaks from the diff housing) but most of these problems should have been dealt with under Nissan's new-car warranty programme by now. For this reason I suggest you keep your search down to New Zealand-new models with a proven service history.
Honda CRV Sport
The claimed fuel consumption (10l/100km) is not a huge amount better than the Murano and loaded to the gunnels on a camping trip may in fact be no advantage. Around town, however, you may find it an easier vehicle to manoeuvre and for everyday requirements it should easily accommodate your needs. For an SUV-style vehicle the CRV is a very good driver's vehicle on the open road.
Toyota RAV4 Limited
The Limited comes highly spec'd as standard and has proven a very popular vehicle for Kiwi motorists. And it's popular with rental companies, which is testament to its durability and reliability. The spare wheel hanging off the rear door may interfere with the rear vision, maybe a slight negative for some. Fuel consumption is almost identical to the CRV.