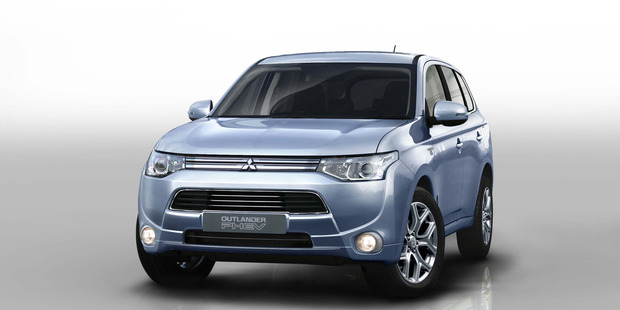 Mitsubishi is launching the world's first plug-in hybrid SUV at the Paris motor show this month and aims to offer the best of three worlds.
The Outlander PHEV will have the environmental performance of an electric vehicle (EV), the cruising range of a conventional internal combustion engine (ICE) vehicle, and the on- and off-road performance of a SUV.
Mitsubishi is due to start selling the Outlander PHEV next year. It will first go on sale in Japan before going international.
The hybrid is based on the new Outlander which debuted in Russia in July and uses Mitsubishi's own Plug-in Hybrid EV System powertrain derived from 100 per cent electric systems used on the i-MiEV and other MMC all-electric vehicles.
The Outlander PHEV will offer the environmental performance and quietness of EVs with the utility and on- and off-road performance associated with 4WD sport utility vehicles and the cruising range of a conventional ICE-powered vehicle.
Targeting the mid-size category and above, which requires an extended cruising range, the Outlander PHEVs will employ electrical power stored in the drive battery by charging either at home, a charging station or when the system recovers energy when decelerating.
The driver can also manually switch to battery charge mode in which the petrol engine acts as a generator and charges the drive battery whether the vehicle is stationary or moving.
The Outlander PHEV uses a Twin Motor 4WD system comprising independent electric motors to drive the front and rear wheels.
In addition to decreased friction loss, Twin Motor 4WD delivers better response and finer control than conventional mechanical systems.
It accomplishes this without a propeller shaft or other mechanical components seen in conventional mechanical systems.
The Twin Motor 4WD system is integrated with Mitsubishi's well-proven S-AWC (Super All Wheel Control) integrated vehicle dynamics control system to deliver high levels of stability and all-terrain performance and ensure the vehicle behaves just as the driver intends it to.
In addition, the front and rear electric motors generate maximum torque immediately, an inherent characteristic of electric motors.
This gives acceleration comparable to that of a vehicle powered by a large displacement high-output ICE and allowing Outlander PHEV to deliver superior levels of environmental and driving performance.