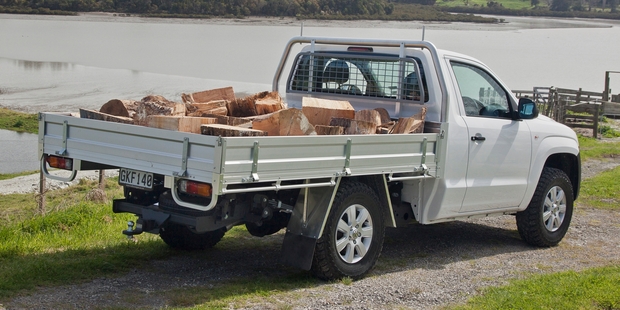 Volkswagen has put an interesting twist on the single-cab ute as it makes a serious foray into the gumboots and steel-capped boots markets with a new version of the Amarok.
The cab has space behind the rear seats for cargo or equipment. It's somewhere between a conventional single cab and an extended cab ute.
This isn't the first time a single-cab ute has had a bit of space behind the seats for stowing stuff, but Volkswagen has been generous with dimensions and ease of access.
The seats slide forward and both backs tilt. It's surprising how much equipment will fit there, and how easy it is to load. It's one of those "why didn't they think of that before" ideas and could cut into extended-cab sales.
But there's more to the space than stowage. The bucket seats can be pushed well back, providing decent legroom for really tall drivers.
Volkswagen sells its Super Single in either two- or four-wheel drive, as a cab-chassis or a wellside.
Two-wheel drives use a 90kW turbodiesel engine producing 340Nm of torque between 1750rpm and 2250rpm, while the 4WD's engine ups the output to 120kW and 400Nm between 1500rpm and 2000rpm.
Both use a six-speed manual gearbox with a tall top gear that helps provide excellent fuel economy. The 4WD is rated at 7.8 litres per 100km overall, the two-wheeler at 7.5 litres per 100km.
In 4WD cab-chassis configuration, the one tried by Driven, the Amarok can carry 1135kg. The wellside version can take 1022kg and the 2WD can haul 1248kg and 1152kg respectively. Both are rated for a 3000kg braked trailer, or 750kg unbraked.
The 4WD cab-chassis costs $49,990, the 2WD $41,990. A flatdeck or wellside tray adds another $2000. It's not the cheapest single cab, but it's one of the best.
Like the costlier and more fully equipped double-cab versions, the 4WD Amarok Super Single Cab rides and handles well on the road and has reasonable power reserves.
It's also competent off the road, although its approach and departure angles of 28deg and 24deg are modest. It's one of the few utes to have electronic hill descent control (HDC) to help ease it slowly and safely down steep slopes.
In reduction range, the low first gear and the diesel engine's braking effect make HDC unnecessary for an experienced driver. But it's a great security blanket for drivers not used to off-road conditions.
Loving the mud
Owners of "working" utes don't have to put up with lousy handling, grip and high noise when they fit modern mud tyres. Driven's Amarok test truck came with non-standard mud treads that performed astonishingly well on the pavement, giving little away to the normal street-biased rubber.
Volkswagen fitted American Cooper Discoverer STTs, but most modern mainstream brands of mud tyre offer a similar level of performance. The Coopers, like some of their radial-ply rivals, also have tread that spills over on to the sidewalls, providing some useful lateral grip in really muddy conditions.