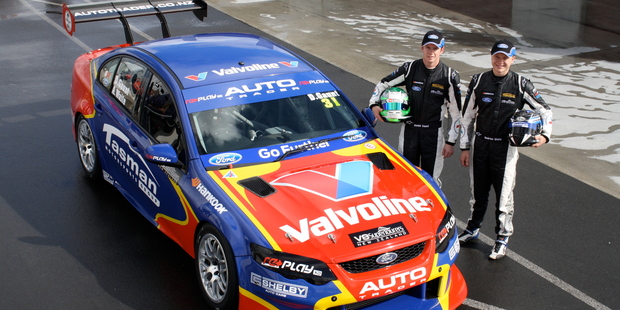 There'll be a few standout names fizzing around the Taupo Motorsport Park this weekend for the first endurance round of the V8 SuperTourers winter series.
However, not all the big names, and the ones with some pretty tidy pedigrees, will be strapping themselves in behind the wheel. A few of the "behind the scenes" blokes have been around motorsport for a long time and bring some hefty experience to the series.
One of these is Steve Horne who's the team principal at Tasman Motorsports Group and he'll be in charge of Daniel Gaunt and Andrew Waite to ensure they'll be at the pointy end of both races when the chequered flag comes out.
Horne is the former boss of the 1986 Indy 500 winning team, Truesports Racing, and owner of Tasman Motorsport Group's CART team, which had great success Tony Kanaan, Helio Castroneves and others. He is keen to make his mark in the domestic V8 series.
Horne should be able to shepherd his young charges to success having guided Kannan to an Indy Lights championship in 1997 when he beat teammate Helio Castroneves to the title. Horne hired Kanaan for his CART team the following year and the Brazilian finished ninth in the points with a best finish of third. He won the Jim Trueman Rookie of the Year.
That was to be the last year Horne competed in CART as its stoush with the IRL was starting to warm up. In his years racing in America it's been said Horne had a hand in mentoring around 40 per cent of the CART drivers and Kanaan and Castroneves have gone on to be stars in the IZOD IndyCar Series along with New Zealander Scott Dixon.
"When the whole CART IRL war started it made it very difficult to convince sponsors to get involved with CART, but not go to the Indy 500," said Horne.
"I realised early on in the war that this was going to be destructive to open wheel racing in America.
"At that precise time I had an offer to sell the team and my wife [Christine] and I looked at each other sort of knowing what was going to happen. We could either try and ride it out, or get out.
"In the end we decided to go and over the next 10 years the war between the two proved to be very destructive."
Horne had always kept an eye out for an opportunity to get back into motor racing.
In early 2000 he had a long, hard look at getting involved in V8 Supercars, but it didn't come off.
"Getting involved in V8 racing was the ideal thing at our stage of life. There's pressure for sure, but it's not extreme pressure. The SuperTourer series has exploded in terms of competition and the quality of the teams is quite special," said Horne.
Although he missed the lion's share of the sprint series, Horne is more than ready to have a major tilt at the endurance rounds.
"In 1998 we ran a touring car in the American Touring Car Championship with Neil Crompton so it's not totally something that's brand new to me.
"A race car is a race car whether it's got a roof on it or not - the same basics apply. I'm excited about heading to Taupo and the field is incredibly competitive. I have no idea how we're going to do but I don't think we're going to last and I'll be incredibly surprised if we win.
To finish inside the top 10 would be a great result for Horne and his team and shouldn't come as too much of a surprise.
In Gaunt and Waite the team have two drivers who know how to win and, in Horne, they have a proven winner who more than knows how to steer a championship team.
"This is only our second event but the team has gelled very well under Mark Pilcher. Our knowledge base isn't what some of the other teams are. We'll be going the full banana over the weekend but our banana isn't quite as sharp as some as the others - just yet," said Horne.