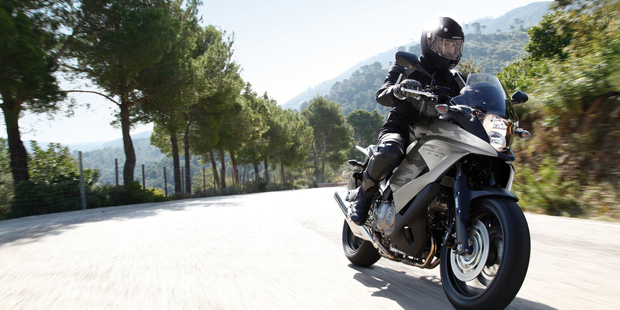 On bumpy roads, the Crossrunner tucks its rider and passenger up comfortably on open roads. Somewhat sedate on crosstown jaunts, it does, however, give them a good view of gaps in the traffic.
Anyone tempted to diss a parts bin special should ride on Honda's Crossrunner, for it proves a bike indeed can be better than the sum of its parts, even when some of those parts are long in the tooth.
The decade-old VFR800 motor that powers it was once the two-wheeled-equivalent of an 800m runner. Its sporting days over, it has had a career change and modified training, Honda retuning the 782cc V4 powerplant and mating it to a new exhaust to deliver power across a broader spread of revs.
It's slotted into the same frame, with the same wiring and brakes, and the same basic suspension reworked to drop the forks through the yokes and increase the downward angle of the rear swingarm to impart the required alert stance. High-rise bars and new bodywork complete the transformation to a long-legged, any-roads tourer, without the extreme suspension a true dual purpose bike may boast.
So far so dull, but it all comes together when you ride it on bumpy winter back roads, liberally stippled with potholes and rocks and garnished with slicks of winter moss and muck.
It helps that there's none of the limp-wristed low-revs response of the VFR, or the sphincter-clenching jerk as you hit high-rev thrust. Power may have dropped a nudge but Crossrunner pulls confidently off the line, accelerates steadily from a stronger bottom end and delivers its 72.8Nm torque and 74.9kW power peak between 9500 and 10,000rpm, at which it emits a hair-raising, high-pitched V4 rasp.
Meanwhile, the bizarre-looking bars that sprout from the bodywork are sufficiently broad to tip it deep into bends, the compliant suspension keeping the rubber down as you throttle through and out, braking hard into the next corner then flinging it in with increasing confidence as you realise this bike really can deliver the real-world goods.
That upright riding position permits good leverage through both footpegs and bars and lets you move around on the bike as you flick it about, delighting in the sort of forgiving handling that encourages hoonery - or allows that last-second save when diesel or dirt sends the back wheel awol.
The bodywork does a reasonable job of protecting the rider. The LCD instruments include a twin trip, an air temperature gauge and a clock to alert you when you're late for work, at which point you'll appreciate Crossrunner's ability to carve through gridlock via the commanding view, good steering lock and decent brakes further boosted by ABS.
Even passengers will like it. The low-mounted exhaust permits a flattish pillion seat that's easy to mount, and tucks your sweetie out of the wind.
Really, the only fly in the ointment is that the 21.5-litre tank lifts the centre of gravity when full.
Honda says Crossrunner was designed after customer focus groups revealed a need for an adventure-style bike without an off-roader's jacked-up suspenders and sky-high seat. Buyers wanted the look and back-roads manoeuvrability without the disadvantages. Honda chose tried-and-true ingredients and linked them with minimum fuss.
Crossrunner should, therefore, feel like the bastard child of a committee decision. That it doesn't say as much about the quality of its ingredients when new, as it does about the ability of Honda's designers to think just a little outside the proverbial square.