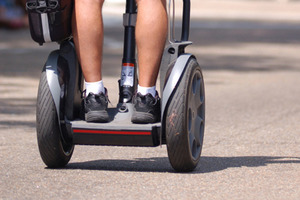 Police have ordered Segways off the footpaths.
An Auckland pizza company said it was warned by police that its deliveries could no longer be made by riders on the two-wheeled vehicles.
Sal's Pizza restaurant is one of at least two eateries that deliver around Auckland on Segways.
But yesterday the company said it had been told it faced fines or even a court hearing if it continued allowing the vehicles on footpaths.
"Last night we were contacted by Auckland police and told [effective immediately] to stop using Segways on city footpaths or face a fine and court hearing," the company wrote on its website. "So, regrettably we will have to suspend all deliveries [with the exception of Takapuna] immediately and until further notice."
The company has been using Segways for at least three years. Others who use them include the Original California Burrito Company, some real estate agents and Heart of the City ambassadors.
Auckland Transport says the vehicles are classified as motor vehicles so are illegal without registration, licensing and warrants of fitness.
But that has been disputed by Heart of the City boss Alex Swney.
Last night he said he would contact police today.
"We've had regular conversations with the police and none of those have led us to curtail our use of them."
Sal's Pizza yesterday referred all questions to Segway NZ, whose director Philip Bendal said he believed the Segway met the definition of a mobility device but said there had no court ruling on the classification.
Mr Bendal said Segway NZ was in discussions with the Transport Authority in regards to the vehicles' status.