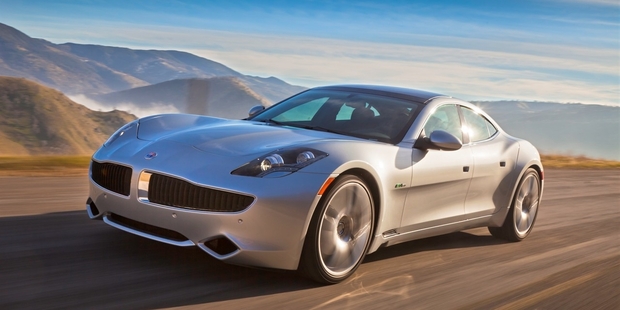 Faulty cooling fan caused several fires and led to recall.
A faulty cooling fan has been blamed for at least one recent fire in Fisker Karma petrol-electric cars. The American company is recalling the plug-in, range-extender vehicles to replace the part.
But the cause of another fire, in a Karma in a Texas garage in May, remains unclear and the subject of further investigation.
Fisker Automotive says its lithium-ion batteries and electric powertrain have been cleared of any fault in a August 10 fire on a California roadside.
The company says an investigation by its engineers and independent fire forensic experts traced the blaze to a low-temperature cooling fan in front of the car.
Photos taken by passers-by appear to support that, showing flames well away from batteries stored under the floor of the vehicle.
"The final conclusion was that this sealed component had an internal fault that caused it to fail, overheat and start a slow-burning fire," Fisker said. "Fisker has today voluntarily elected to conduct a recall with respect to this cooling fan unit.
"The company is working with the responsible supplier and this recall campaign is not expected to have a material financial impact on Fisker."
The company says that, as well as replacing the fan, an extra fuse will be fitted for added protection.
Although Fisker did not announce the number of vehicles recalled, it claims to have sold more than 1000 Karmas since December.
Fisker executive chairman and co-founder Henrik Fisker said the company was committed to responding swiftly and decisively to events such as this to ensure total customer satisfaction.
"This incident resulted from a single, faulty component, not our unique EV powertrain or the engineering of the Karma," he said.
"As this situation demonstrates, Fisker Automotive is dedicated to doing whatever is necessary to address safety and quality concerns."
California-based Fisker launched the range-extender Karma in December last year but immediately ran into problems when battery coolant was found to be leaking on vehicles being built under contract at the Valmet factory in Finland.
Because of the risk of an electric short-circuit and fire in the battery pack, Fisker recalled the first 239 Karmas.
The Texas fire is still the subject of speculation, with Fisker saying the details of the blaze were "not in the public domain".
The Karma coupe allegedly caught fire in a garage, not only badly damaging the Karma but a Honda NSX and Mercedes-Benz roadster - and the house as well.
The owner of the car said he had driven the car into his garage in suburban Houston three minutes before, without plugging it in.
Fisker later said the lithium-ion battery pack had been found intact and did not appear to be a contributing factor.
Fires are not Fisker's only issue. Finance problems are also besetting the company.
This year, Fisker was denied access to more than half of $529 million ($654 million) in government loans it had been relying on, and is reportedly now seeking about $150 million in venture capital.
The financial upheaval has forced Fisker to shelve plans to build a second model, the Atlantic, in Delaware.
The company is now looking to former General Motors executive Tony Posawatz to guide it through its current issues.
The former head of GM's Volt programme has been appointed Fisker Automotive chief executive officer, replacing Tom LaSorda.
-Go Auto