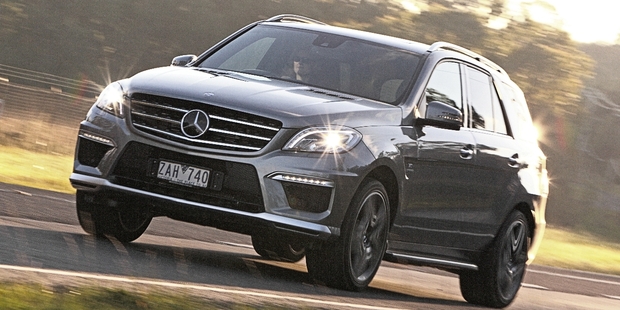 The latest Mercedes-Benz M-class is a car of many talents. No doubt you've heard about the ML 250 BlueTec: that's the one that combines the dimensions of a full-size sports utility vehicle (it is essentially an American vehicle, after all) with the fuel economy of a four-cylinder diesel. It just makes so much sense.
Now, meet the other extreme of the range. Whatever Mercedes-Benz's AMG division might have said in recent years about only powering-up Mercedes-Benz vehicles that suited its enthusiast ethos, there's no way it would be allowed to ignore the goldmine that is the American hyper-SUV market.
Despite what the numbers on the tailgate tell you, the $197,900 ML 63 boasts AMG's latest 5.5-litre twin-turbocharged V8 engine, with 386kW/700Nm. Very little can hold back that kind of firepower, not even 2.2 tonnes of heavy metal. The ML 63 is a genuine super-SUV, with a 0-100km/h sprint time of 4.8 seconds.
In typical German fashion, the highly efficient new V8 is capable of remarkable fuel economy in official laboratory testing, returning 100km per 11.8 litres in the Combined cycle.
Good luck with that in the real world.
It looks imposing and sounds amazing, yet the ML 63 AMG is not quite the monster you expect it to be. From past experience with the C 63 and SLK 55, there's nothing to suggest the AMG division is getting any kinder or gentler with age. But it obviously had a brief to make the ML 63 easy to drive, if not exactly docile.
The "biturbo" (as it says on the side of the car) engine produces diesel-like levels of pulling power, and delivers that torque in a diesel-like way: the peak is on tap at just 2000rpm and the car surges forward at any engine speed beyond, even if the seven-speed automatic gearbox can seem a little sluggish at times. Things sharpen up nicely in manual mode, though.
I'd argue the ML 63 also has one of the best exhaust notes of the current AMG range. Not the most brutal or loudest, but the richest in terms of tone and texture. It's able to sound like a menacing V8 while still offering a rich texture and tonal quality that changes depending on the driving style.
You can't expect a large SUV to behave like a sports car, and it's when you start to drive the ML 63 as you would any other AMG vehicle that you start to question whether it's really suitable for the full go-faster treatment. The steering is non-committal, the chassis is tremendously grippy and secure but not exactly enlivening.
What really strikes you about the ML 63 is its refinement and ease-of-use. Our test car rode well despite its massive 21-inch wheels, and road/wind noise was remarkably well suppressed.
It's a high-status $200k luxury vehicle in other words, albeit one that can storm past proper sports cars up an overtaking lane at will.