Extreme climate necessitates unveiling of AWD versions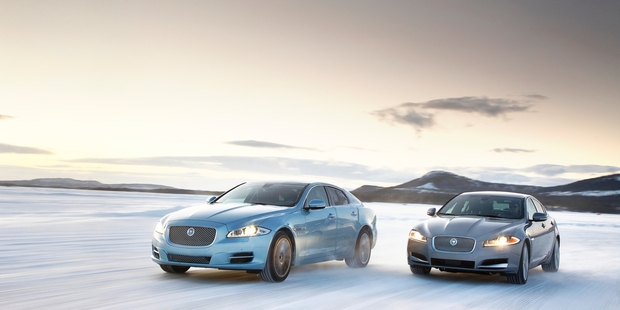 Jaguar is launching all-wheel-drive versions of its XF and XJ models in countries with extreme winter climates, like North America, Russia, China and Continental Europe.
But it is not yet building right-hand-drive variants for Britain where, according to its research, all-wheel-drive cars represent just 5 per cent of the luxury sedan market.
Consequently, the appearance of the four-paw Jaguars in New Zealand is not expected any time soon, apart from the expected arrival next year of the all-wheel-drive XF Sportbrake.
The new XF and XJ sedans are marked out by an "AWD" badge at the rear and will use an intelligent all-wheel-drive system that can split torque equally between the front and rear wheels.
In normal conditions, however, the system will direct most of its power to the rear wheels to maximise efficiency.
Jaguar says it has conducted 18 months of cold weather testing at its facility in Sweden's far north to ensure steering and suspension feel is as close as possible to the rear-drive versions.
The cars will feature a "Winter Mode" for use on snow-covered or icy surfaces, further sharpening the system's response times to help prevent wheelspin.
Jaguar engineering executive Ian Hoban said it was important for the system to retain the dynamic qualities of the rear-drive versions.
"What we are most proud of is the fact that our all-wheel drive system preserves all the dynamic qualities of our rear-wheel-drive Jaguar saloons in terms of handling, steering quality and ride refinement while adding a new depth of ability in low-grip conditions," he said.
"The system delivers all the traction benefits you would expect, but the all-wheel-drive XF and XJ are still very rewarding cars to drive - which was exactly our intention."
The new variants will be powered by a new direct-injection 250kW/450Nm 3-litre supercharged V6 petrol engine, mated to a ZF eight-speed automatic gearbox equipped with stop-start to accommodate a transfer case with active coupling, directing torque to a new front propshaft and front differential via a multiplate wet clutch.
The engine features an electronically managed, twin-vortex Roots-type supercharger mounted in the "V" of the engine.
Jaguar says the engine will be around 5 per cent more efficient than the 5-litre V8 it replaces, which means both the XF and XJ all-wheel-drive should be good for about 10 litres/100km, or 29mpg.
The AWD drivetrain will only be offered with the supercharged V6 engine because of its high torque output.
The new V6 will replace the present naturally aspirated V6 and V8 units.