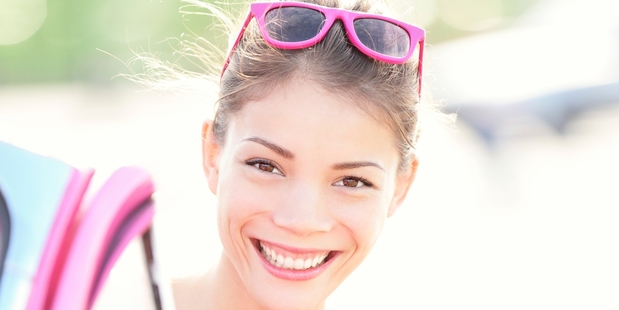 Stand-out cars cater to Gen Y's taste.
As the staff of a Toyota dealership placed a bright pink Yaris at the front of the car yard, most of them were convinced the hatchback would be staying there for a long time.
The car had been painted the pink hue called Cosmopolitan and stood out among the white, silver, and well, white tones of the other cars in the NZ dealership.
But a few hours after the pink Yaris was parked on the road front a young woman entered the car yard and bought it. And the pink purchase wasn't a one off. The other Cosmopolitan painted Yarises in Toyota dealerships were snapped up.
"Generation Y don't want white or silver cars like their parents," a Toyota staff member told me. "They want to stand out, be different.
"The feedback we've had is Toyota's colours in the past have been a bit staid, so that's why new colours have been introduced."
The most startling of the colours has been Sunrise - an orange-pink combination seen on the Toyota Prius c.
And Toyota isn't the only car company to add some bright hues to the usual suspects. Among the "pass the sunglasses" stand-outs have been the Hyundai Veloster in Vitamin C and Ford Fiesta's Chilli Orange while Mazda has brightened its line-up with Sky Blue for the CX-5 and True Red and Spirited Green (or Kermit the Frog green as I called it) for the Mazda2.
Honda also opted for bright colours for its small hatchback, the Jazz, with hues of Fresh Lime and Brilliant Orange, and Hyundai New Zealand had fans with its Picanto in bright Lemon Grass green.
It's not by chance or just tradition that car manufacturers pick the colours for vehicles.
Sometimes the hues are down to what suits the model - a pink small hatch is cute. A large SUV in that colour? No, it won't work.
Car companies also realise that for at least 77 per cent of buyers, colour is an important factor.
A US survey last year found that 31 per cent say they were willing to pay for a vehicle in a colour they preferred while 39 per cent of buyers said they'd leave a dealership if it didn't have the vehicle they wanted in the right colour.
From 2001-2010, silver was the most popular vehicle colour in the world. Silver represents a practical sophistication with a 'futuristic' appeal.
As a business colour, it has been highly successful. But last year, white stepped into first place in the United States as it is seen as clean, uncomplicated and non-threatening.
Nearly half the cars sold in the US last year were painted some shade of white while a third of cars were painted black. A survey found that drivers identify with the "power, elegance, sexy and sometimes mysterious quality" of a black vehicle. In Europe, black was the dominant colour in 2011 while silver took the number one spot in Asia last year.
Yellows, lime greens and other quirky colours were favoured by drivers who wanted to make a fun statement, and reflect their uniqueness by choosing less typical vehicle colours - but only one per cent of US cars were this colour last year. Phew.
Another trend is to combine colours such as Golddeluxe, a silver-gold combination; Pot O'Gold, a light green with gold option; Muddy Waters, a brown and pearl mix; and Grape Spritz, blue and purple.
So, next time you buy a new car it may not be as simple as white, black or silver.