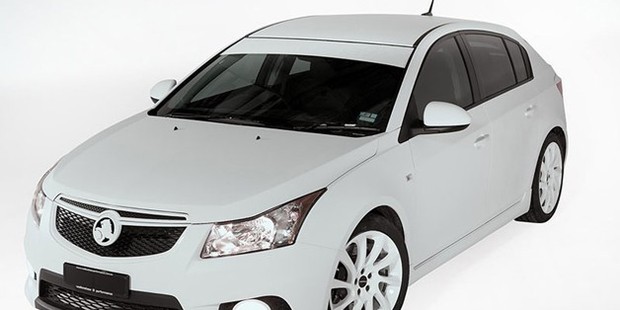 Holden has an upgraded new entrant for hot-hatch market.
The first hint that Holden would develop a go-fast Cruze hatchback came two years ago at the Paris motor show when HSV managing director Phil Harding said such a car was on the menu.
"I am not saying we are doing it, but we are looking at it," he said. "We would be silly if we didn't."
I was among a bunch of reporters questioning him about a replacement Downunder for the HSV-badged version of the imported Vauxhall Astra VRX.
He said Holden Special Vehicles was looking at a "couple" of powertrain options for a Cruze hatchback.
Earlier at the show, Opel - Holden parent General Motors' European nameplate - had unveiled its three-door GTC Paris concept, a Cruze-based flyer powered by a turbocharged four-cylinder 2-litre engine delivering 213kW to the front wheels through a six-speed manual gearbox and a clever limited-slip differential.
HSV wanted something to compete in the hot-hatch segment against rivals such as Ford's new Focus ST.
It had lost access to the Vauxhall Astra VRX.
Now it has such a replacement, developed by Australian subsidiary Walkinshaw Performance.
Walkinshaw Performance has reworked the Cruze's standard 1.4-litre turbocharged petrol engine to deliver 180kW and 310Nm, putting it up there in terms of power with the Focus ST, Renault Megane RS250 and Subaru WRX.
HSV itself looked at building a replacement for the Astra VXR, but instead went to its sister operation WP, which has no official ties with GM-Holden.
WP tweaked the Cruze's engine management system, bolted on an upgraded turbocharger and exhaust manifold, and swapped the standard car's exhaust system for a stainless steel unit to achieve a high specific power output of 129kW a litre.
WP engineered the extra power with the help of tuning house HPF.
Its owner, Rob Vickery, told website GoAuto that it was achieved with a linear power curve that does not reduce the standard Cruze's driveability.
"Upgrading to a bigger turbo sounds like a simple way to get big horsepower," he said. "But in a front-wheel drive, without the right engineering behind it, you could easily make it unmanageable and unfriendly."
The extra performance is up 80 per cent in power and 50 per cent in torque over the 103kW/200Nm donor car.
Helping to keep the power on the ground are major suspension changes, including front and rear sway bars, uprated Bilstein dampers and lowered Irmscher springs.
WP general manager Tony Harris said there was no need to add torque steer-reducing extras such as limited-slip differentials to tame all that power going through the car's front end.
A front brake upgrade consists of four-piston calipers and 343mm rotors developed with high-performance braking supplier Competition Friction, which sit behind 18-inch Irmscher alloy wheels.
A matte-white exterior finish by Exotic Graphics, responsible for the chrome Lexus LFA recently on show in Sydney, is complemented by a WP-branded interior by a leather upholstery specialist.
Rounding off the extras are WP sill plates and a modified gear shifter said to improve feel.
WP developed the car as a manual, but Harris said he was confident the conversion would work with the Cruze's optional six-speed automatic transmission.
Although HSV itself doesn't have a badged replacement for the Astra VRX, Harris said that WP was able to bring its hot hatch to market in its capacity as an aftermarket company.
"We have a bit more flexibility with what we can and can't do, whereas on the OE [original equipment] side of the business there are more constraints placed upon you," he said.
Applying aftermarket performance upgrades has natural consequences for a vehicle's factory warranty but Harris confirmed that WP would cover the conversion and that "like all our modifications, we make an allowance for warranty".