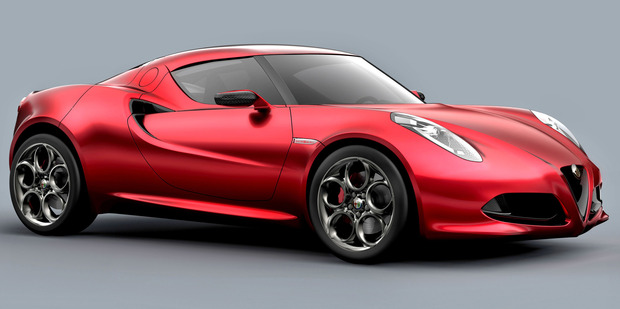 Alfa Romeo is looking at a convertible version of the 4C Coupe. The carmaker has already said the mid-engined hardtop will debut next year with enough oomph for a 0-100km/h time of 4.5 seconds. Alfa Romeo wants to keep the weight of both 4C variants around 900kg and aim them at the Porsche 911. It handed early development of the soft-top to Dallara, the firm behind carbon-fibre components in the Alfa 8C and Bugatti Veyron, but has now brought the project back in-house. The soft-top is tipped to appear in 2014-15.
Pizza wagon with special ingredients
Pizza company Dominos has asked US company Local Motors to design the ultimate pizza delivery vehicle. A design competition began on the internet this week and ends in February next year. It has five parts: design, packaging, interior, surfacing, rendering ... all in the search for a better pizza experience. Dominos' drivers in the US collectively do a claimed 16 million kilometres a week.
State bails out Nurburgring
The German state of Rhineland-Palatinate is set to bail out the Nurburgring race circuit, which has fallen on hard times. The loan of around $390 million will allow the track to service an existing loan and keep operating. The original loan was used to build a supporting shopping mall and playground, neither of which was a success. Formula One boss Bernie Ecclestone had said he would do everything to save the Ring.
Buyers cough up without feel of the wheel
More than 10 per cent of new car buyers in the United States can't be bothered to take a test drive, says The Detroit Free Press. A study by Maritz Research of 80,000 people who had bought 2012 model year vehicles showed that 11.4 per cent wrapped up the deal almost sight unseen. The implication is that with some 80 per cent of consumers doing their car research on the internet, combined with a universal dislike of car sales practices, people are increasingly willing to buy a car without driving it first. Dealers, oddly enough, are not happy about this trend, according to the report. The test drive is part of the dealer's arsenal of tactics to get people excited enough to part with their hard-earned cash. As one former dealership representative told the Detroit Free Press: "The feel of the wheel will seal the deal."
State-of-the-art tribute for 1955 Porsche forever linked to James Dean
French company Vintech will unveil its P550 Tribute at California's Pebble Beach Concours d'Elegance today. As the name suggests, the car honours the famed Porsche 550, in which actor James Dean was killed in 1955. The P550 Tribute possesses classic lines but boasts a carbon-fibre body, a modern chassis and a 3-litre boxer engine delivering around 200kW via a five-speed manual gearbox to the rear wheels. Serious oomph for a car weighing ... 550kg. No word on price yet but the P550 Tribute will be considerably cheaper than the $4 million an original 550 commands.
Jeep set to act on calls to build ute
Jeep president Mike Manley has told Australian website Car Advice that a ute variant will go on sale "pretty soon". There has been interest in such a vehicle since Jeep began selling its Mopar JK8 pick-up conversion kit in the US. The next-generation Wrangler is due in 2015 but a pick-up might not be built on the same platform. Manley's dilemma is whether to build a two-door or four-door pick-up. Making a Wrangler variant that couldn't live up to the Jeep's off-road standards was a concern, he said. The length of a pick-up would mean "your break-over angle gets destroyed', he said. "Then is it really a Wrangler?" The two-door, however, would have "no issue at all".
We are the world
* Florida woman Mandy Ramsey, 35, who led police on a car chase later reported she didn't want to pull over because she was driving home topless to surprise her boyfriend. With police in pursuit, Ramsey ran a stop sign and hit an oak tree, reports Gainesville.com.
* Police in Florida are trading in their standard unmarked cars for vehicles no one would expect them to use, including Toyota Priuses and Hyundai Elantras. "There's going to be everything you could imagine - save your high-end luxury cars," a Fort Lauderdale Police spokesman told WPTV.