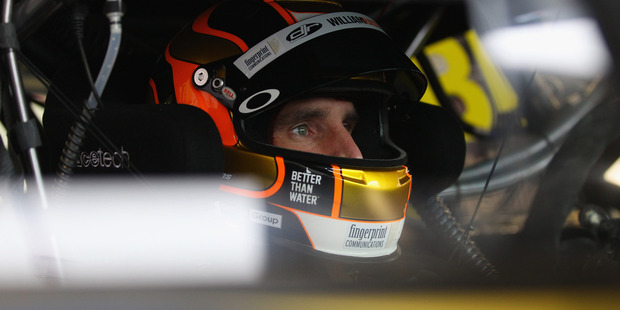 American-based Kiwi racer Matt Halliday has signed to race in the V8 SuperTourer endurance rounds for International Motorsport, sharing a car with Ant Pedersen.
Despite making his name primarily in single seaters and Porsches, Halliday is no stranger to big bangers having co-driven many a time in the Australian V8 Supercars endurance rounds. This year he'll be sharing the Jim Beam Racing Falcon of Dean Fiore for Sandown on September 14 to 16 and Bathurst, October 4 to 7.
These dates work in well with the New Zealand enduro rounds that start at Taupo, August 31 to September 2, followed by Pukekohe on October 26 to 28 and Ruapuna on November 23 to 25.
For the past five years Halliday has been based in Los Angeles and commuted to races in New Zealand, Australia and in Europe. This year he has been contesting rounds of the FIA GT1 sports car championship, winning the first one at Zolder in Belgium from pole.
Before his move to the FIA GT1 championship this year Halliday contested the Formula 1-supporting Mobil1 Porsche SuperCup series.
And before that the former New Zealand Porsche GT3 Cup Challenge front-runner spent two seasons sharing driving duties in New Zealand's A1GP World Cup of Motorsport car with Jonny Reid, who is driving the other International Motorsport car.
Reid will share his car with former world karting and Indy Lights champion Wade Cunningham.
"The team pulling out of the GT1 championship was a disappointment but I've been in this game long enough to know racing is a tough, tough business," said Halliday from Los Angeles.
"As a driver you're at the mercy of what's going on with the teams and sponsors you drive with. Nothing is ever guaranteed but I took the opportunity while it was there and had some really great results and made a few people take notice.
"You can't loose sleep over it and you just move on."
And move on Halliday has with his forthcoming endurance gigs in New Zealand and Australia, both and he's comfortable taking the next chapter in his racing career.
"My focus is now the endurance races and it's a big programme. A lot of people had been talking to me on and off about the New Zealand series and and, to be honest, Lyall [Williamson International Motorsport] was going to be the only one I'd do it with," said Halliday.
"I love racing in New Zealand more than anywhere else in the world and because of the politics that's always in motorsport I wanted to do it with someone I know and turn up with no strings attached and have a good time and do the best I can."
Halliday hopes to back in New Zealand in the near future to get a few test kilometres under his belt.