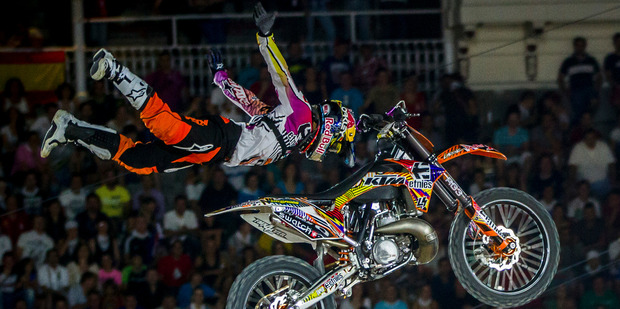 Several nasty crashes haven't put Levi Sherwood off his crazy aerial antics.
High-flying Kiwi motocross freestyler Levi Sherwood looks set to win the Red Bull X-Fighters series in Germany this weekend, and the US$1 million purse that goes with it.
Sherwood is in Munich this weekend for the penultimate round of the Red Bull X-Fighter International Freestyle Motocross series and leads the championship by 80 points from Javier Villegas.
This year Sherwood has been back at his best and is in with a better than even chance of picking up the NZ$1.3 million dollar prize on offer this year. He launches himself into action at Munich's Olympic Stadium hot from a close win over Dany Torres in the Spaniard's own backyard in Spain last month.
The charge for the round win was as tight as you could get with Sherwood just sneaking past Torres who threw in a series of a cliffhanger backflip, stalefish air, Indian air heel clicker, dead body flip, flatliner whip, BASE jumper and a stripper flip.
Sherwood answered with a collection of jumps that impressed the judges including his own flatliner, a kiss of death flip, seat grab backflip, heel clicker, air turntable, holy grab air and a rodova, which is a variation of the cordova, to edge out Torres by the slimest of margins 87.5 to 86.5.
"It was a big deal for me to win the first round [Dubai]," he told redbull.com. "In my first year in the series I won the first round in Mexico, but I never thought I had a chance at the other rounds. But this year after I won the first round I gained a bit of confidence and maybe realised I had a chance.
"This is probably my biggest win I've had. I feel like I really had to work for it and there was no point there where I thought I had it. I'm was so pumped.
"Dany rode really well, and everybody surprised us. It was intense."
Sherwood has raised a storm since he arrived on the freestyle motocross (FMX) scene in 2009. He had competed in the Crusty Tour, and a couple of national events on home soil and in Australia for a couple of years before at just 17 years old, he headed to the US to ride at the Red Bull training compound in California.
While riding there he got a call up to compete in Mexico City due to another rider pulling out through injury. Sherwood grabbed his opportunity as a wild card with both hands, and his feet, and won the event to announce his arrival on the international scene.
As a reward, Sherwood was given a starting place at the next round in Calgary, Canada and as they say - the rest is history. Such were his amazing tricks on the bike and his suppleness; he was soon nicknamed the Rubber Kid.
The master of aerial motorcycling, and consummate showman, 17-time X-Games medalist Travis Pastrana stated at the time Sherwood was making waves that, "Levi [Sherwood] is without doubt the most exciting young rider in the world right now. If he remains uninjured he could dominate the sport for years to come."
Unfortunately, in 2010 Sherwood broke his wrist and right femur in an accident at the world FMX championships in Los Angeles, California and was out of action for a while.
"The leg's healing pretty well, but it was broken pretty badly so it's taking a while to get better," Sherwood told the Herald after his surgery. "The wrist wasn't a major and is fine and I should be back on the bike within a month."
That he was - only to crash again lacerating his liver and fracturing vertebrae. But you can't keep a good man down and he was soon back in action again.
Sherwood now has a different attitude to competing after smashing his body about in quick succession. He always knew he could get hurt, and having come through his accidents, has re-gained his confidence in the bike and himself and is now determined to have fun and not put too much pressure on himself.
Before his accident Sherwood showed he's got what it takes to build a legacy in FMX when he went head-to-head with Pastrana at the 2010 X Games in what was one of the closest battles in the event's history. Pastrana came out on top, taking gold on the day leaving Sherwood to take a close-fought silver.
After recovering from his series of horror injuries Sherwood was again back on the X-Games podium winning silver in the men's freestyle category losing out to Japanese rider Taka Higashino this time.
Due to inherent transport design principles, motorcycles aren't intended to fly through the air, but the X-Fighter riders seem to be able to get them so high, and with more than a modicum of control.
What puzzles most watchers of the sport, is these crazy men and their flying machines aren't concerned with hanging on for dear life, but doing enough gymnastic movements to warrant a gold medal at the Olympics.
"You kind of get used to flying through the air. It's like riding a bike on the road, you don't [know] how you're balancing but you are and you are kind of able to control it in the air.
"Like if you're too high you hit the back brake and that will drop the front end.
"If your nose is too low you give it a quick squirt of throttle and that'll pick the front end up. Also, if you do it as much as we have it sort of becomes second nature and I know what I'm doing anyway.
"You know as soon as you take off from the ramp if you're going to crash or where you're going to land. With the flip you know as soon as you take of if you have to speed up, slow it down or hang on longer. It's all in the feel of it," said Sherwood.
Up to 40,000 fans are expected to watch the action in Munich as the riders fly off jumps up to 30m in distance and 15m high. The flying circus then heds to Sydney.
For video of Levi doing his mad, mad thing, see nzherald.co.nz/driven.