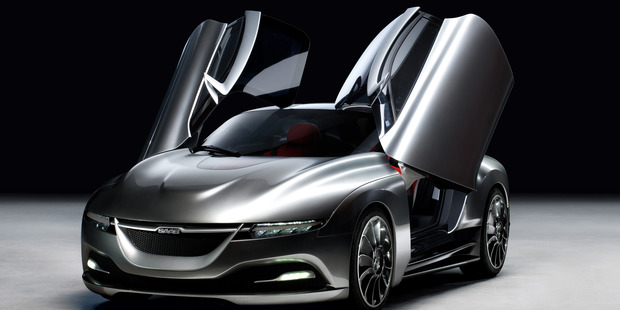 Parent company Spyker sues US carmaker for $3.6b
Bankrupt Swedish carmaker Saab Automobile and parent company Spyker NV are suing General Motors for US$3 billion ($3.6 billion), saying they are seeking redress for "unlawful actions" by GM to avoid competition with Saab Automobile in China.
The David and Goliath lawsuit was filed this week in the United States District Court of the Eastern District of Michigan - in GM's home town of Detroit.
Documents filed by Netherlands-based Spyker pull no punches, claiming GM's actions "had the direct and intended objective of driving Saab Automobile into bankruptcy".
Spyker accuses GM of "tortiously [wrongly] interfering" with a transaction between Saab Automobile, Spyker and Chinese investor Youngman that would have permitted Saab Automobile to restructure and remain a solvent, going concern.
A third party investor is funding the lawsuit, which has been brought by Spyker on behalf of Saab as the Swedish carmaker is in receivership and unable to fund the action.
Saab filed for bankruptcy in December after it exhausted several attempts to find an investor, apparently stymied by GM's unwillingness to share its intellectual property in Saab cars with other manufacturers in China.
Spyker chief executive Victor Muller - whose company bought Saab from GM in an effort to save it at the height of the global financial crisis - said the lawsuit had been coming since bankruptcy was declared late last year.
"We have worked relentlessly on the preparation for this lawsuit, which seeks to compensate Spyker and Saab for the massive damages we have incurred as a result of GM's unlawful actions," he said in a media release announcing the legal action.
"We owe it to our stakeholders and ourselves that justice is done, and we will pursue this lawsuit with the same tenacity and perseverance that we had when we tirelessly worked to save Saab Automobile, until GM destroyed those efforts and deliberately drove Saab Automobile into bankruptcy."
The statement said Spyker and Saab Automobile had entered into an agreement under which Spyker will bear the costs of litigation "in exchange for a very substantial share of Saab Automobile's award when the proceedings are successful".
A GM spokesman in Detroit has told US media outlets that GM will fight the suit.
Saab was one of several brands dumped by GM after it hit financial strife in 2009, coming close to closing Saab production before selling it to Spyker in January 2010.
Spyker sought additional investment through a number of potential owners around the world to maintain sufficient cashflow to pay parts suppliers and Saab workers at its factory in Trollhattan.
However, GM, which retained control over GM-engineered components in Saab cars and production of the new Saab 9-4X SUV at its plant in Mexico, refused to permit Chinese companies Pang Da Automobile and Zhejiang Youngman Lotus Automobile to buy in.
GM has large investments in China, in partnership with Shanghai Automobile Industry Corporation (SAIC) - China's biggest car-maker.
Saab production ground to a halt in May 2011 when unpaid parts-makers withheld supply, and the company collapsed in December when receivers were appointed.
According to the lawsuit documents, Saab was planning to produce the next 9-3 on its own Phoenix platform, which debuted at the Geneva motor show in March.
"GM owns no rights in Saab's Phoenix platform," it said.
- Go Auto