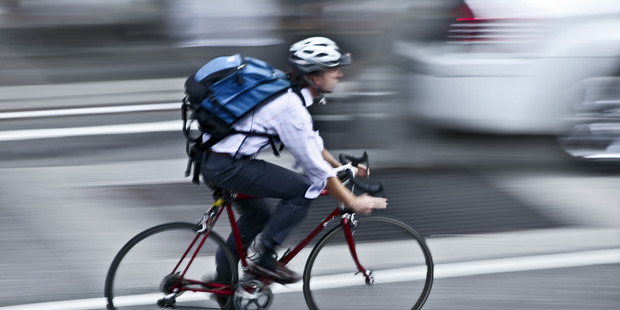 As the world becomes more connected wirelessly, General Motors has announced it is working on a system that would use increasingly advanced smartphones to identify - and hopefully avoid - pedestrians and cyclists on the roads.
The US car company describes the technology as "promising", saying it could assist drivers on congested streets and in poor visibility.
It relies on 'Wi-Fi Direct', the peer-to-peer wireless standard for latest-generation phones using platforms such as Android 4.0 that lets devices communicate directly with each other rather than through a shared access point such as a phone tower.
GM's researchers have determined Wi-Fi Direct can be integrated with other sensor-based object detection and driver alert systems already available on production vehicles to help detect pedestrians and cyclists carrying smartphones equipped with the system.
Phones employing Wi-Fi Direct are said to be capable of communicating directly with each other almost instantly up to 200m away.
Bypassing cellphone towers is claimed to reduce link times from seven or eight seconds (to acquire location information and connect) to about one second, providing true real-time information vital to detection, alert and avoidance systems.
GM has long been developing vehicle-to-infrastructure (V2I) and vehicle-to-vehicle (V2V) links as the next big step in accident avoidance, with systems to arrive in cars within five years, and ultimately with a view to providing autonomous driving.
Wireless pedestrian detection is part of its ongoing development that it says could provide advance warning about hazards such as slowed or stalled vehicles, slippery roads or intersections and stop signs.
GM's global research and development director of the Electrical and Control Systems Research Lab, Nady Boules, believes the technology could reduce pedestrian and bicycle fatalities from collisions with motor vehicles, which in the United States amounted to 4898 lives in 2010.
"This new wireless capability could warn drivers about pedestrians who might be stepping into the roadway from behind a parked vehicle, or bicyclists who are riding in the car's blind spot," he said.
"Wi-Fi Direct has the potential to become an integral part of the comprehensive driver assistance systems we offer on many of our Chevrolet, Cadillac, Buick and GMC vehicles."
GM believes that Wi-Fi Direct's fast connections offer a distinct advantage in vehicle applications because the quicker a vehicle can detect other users, the greater the potential for collision avoidance.
In addition to aiding pedestrian detection, the 200m range - as assessed by the Wi-Fi Alliance, the global industry association in charge of certifying wireless standards - could enable secure transfers of files such as MP3s or digital address book information between a home computer and the user's vehicle infotainment or navigation system.
"As we move toward becoming a more connected society, having a self-aware connected car will be increasingly important," said Thilo Koslowski, the vice-president of vehicle industry analysis at Gartner, a leading information technology research and advisory company.
"Not only can Wi-Fi Direct help vehicles seamlessly communicate with other consumer devices, it can also augment vehicle-to-infrastructure communications as well, which could lead to better traffic management and fewer accidents."
GM is also looking to develop a complementary app for Wi-Fi Direct-capable smartphones that can be downloaded by frequent road users such as "bike messenger" or "construction worker" that would help Wi-Fi Direct-equipped vehicles to identify them.
- Go Auto