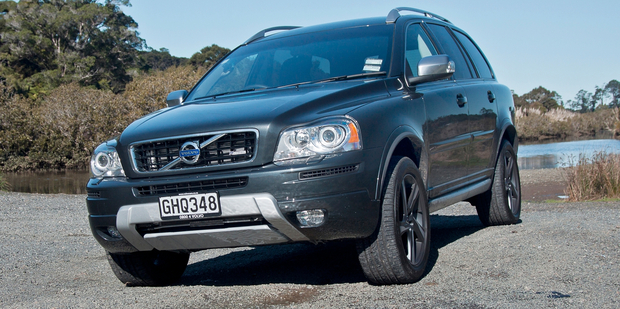 There's something imposing, almost regal, about the Volvo XC90, an SUV that's now entering its second decade of production. You almost expect the Queen to jump out of it, in gumboots, into a puddle.
Despite a facelift and minor running changes, the big Swede hasn't altered all that much over the years but its styling still manages to look contemporary. It's handsome in a slightly aggressive way and has tremendous road presence.
It's also a vehicle that occupies a fair slice of roadway real estate with a footprint not that much smaller than a Toyota Land Cruiser's, a vehicle often singled out by those who like to criticise the size of SUVs.
However, the Volvo's footprint is put to good use because, inside, there's a whole heap of useable space. A third row of seats lays hidden beneath the beautifully carpeted floor when not needed and there's a big cargo area, generous legroom for those in the second row and better buckets in the front than some palace recliners.
For those who need a commodious SUV of good quality, but who don't want to go the conventional big 4WD route, the XC90 - a new model of which isn't coming until 2014 - could be just the thing at $89,990. Although it's the biggest Volvo, the truck line excepted, it's not quite the most expensive; the smaller XC60 T6 R-Design comes in just short of $97,000.
Volvo offers a range of four XC90s at the same price. This comprises Executive and R-Design versions with either the 3.2-litre petrol engine or the five-cylinder turbodiesel, the one Driven's been trying.
The R-Design package is intended to dress the XC90 in sports gear, the Executive in a business suit. Which one to go for is a matter of personal choice, although the sporty option helps camouflage the wagon's size.
But it doesn't disguise the fact that the XC90 is not a particularly fast vehicle, with an 0-100km/h time of around 10.5 seconds for the diesel. Spending another $1600 sorts that out with a factory Polestar computer upgrade that boosts power to 169kW from 147kW and torque to 480Nm from 420Nm.
On the road, the XC90 D5 handles and rides well enough, but steering effort is high and the 13.1m turning circle can be annoyingly large. It's a wagon that's at its best on a long run to the skifields or holiday getaway. On the other hand, if you have to move castle, just drop all the seats and start stuffing its voluminous carpeted cargo area.