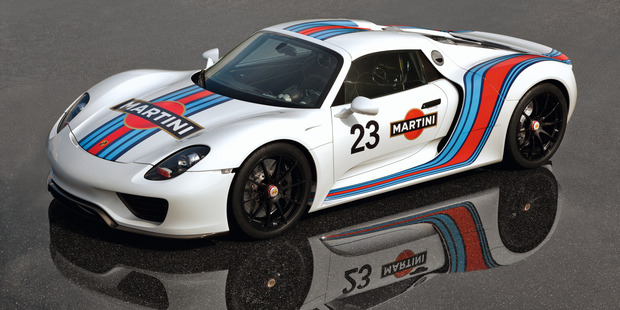 Martini has been associated with Porsche race cars for years. Now it's backing the all-new 918 hybrid supercar. This is the first official photo of the new livery, although spy shots of the car testing on the Nurburgring circuit appeared earlier.
Swiss-based Martini owner Bacardi & Company has been involved with Porsche since 1969. A Martini-liveried 917 won the 1971 Le Mans 24 Hours. But it was not until 1973 that Martini became a factory partner of Porsche. That partnership lasted until 1978. The red, white and two-shades-of-blue could be found on almost every racing Porsche of the 70s
Nissan strays from the Pathfinder
Nissan has released the first official image of its new Pathfinder SUV, little changed from the concept shown at the Detroit motor show in January.
The Pathfinder has ditched its body-on-frame construction for a car-based unibody blueprint and Nissan claims the new model will be 25 per cent more fuel-efficient than the present Pathfinder. It will share its platform with the Altima sedan and will have seating for seven. Chances are that power from the choice of petrol and diesel engines will drive the wheels via a continuously variable transmission. CVT units will continue to replace traditional gears, says a report in the US. In 2005, about 1 per cent of new vehicles in the US were equipped with a CVT. By 2010, 7 per cent used CVTs.
Analysts expect that by 2016 CVTs will be in 16 out of every 100 cars sold. The belt-and-pulley transmission can adjust to an engine's torque in an infinite number of ways, making it more efficient than traditional gearboxes.
But CVTs have become the bane of many enthusiasts and critics because of the unpleasant "rubber band" sound they emit under hard acceleration.
Aussie blokes take new direction
A study across the ditch has turned one of the great stereotypes of the sexes sideways. The Australian Association for Motor Insurers has found that 64 per cent of men use nav systems while only 50 per cent of women rely on them. AAMI spokesman Reuben Aitchison pondered the old stereotype of men never asking for directions: "It was a point of honour, sometimes known as stubbornness," he said. The poll also asked people what guidance voices they liked best. The most popular included Morgan Freeman and Christopher Walken. The least favourite? Ozzy Osborne.
Here comes Paceman
Mini has posted official spy shots of the 2013 Paceman on its Facebook page. And the car will be called the Paceman, says Dr Kay Segler, senior vice-president of Mini brand management. Also for real is the rest of the Paceman concept's design, starting with the rear-slanting roofline.
Sound recycling
Matteo Panini and Mirco Pecorari are partners in iXoost, a company which builds audio gear out of F1 exhaust manifolds. Their iPhone/iPod docking system comes in 8-, 10-, and 12-cylinder models, and has 420 watts of power driving either six or nine speakers.
Judge rules against BMW over replacement parts
BMW has been tussling in court for the past 13 years with a South African parts supplier called Grandmark. It's all about intellectual property rights for car parts. South Africa allows entities to register an "Aesthetic Design" (AD) that "is new and original, and that has features which 'appeal to and are judged solely by the eye'." BMW has received AD registrations for its vehicles and the parts, and so argues that Grandmark's manufacture of identical replacement parts infringes on its intellectual property.
BMW won a court order 12 years ago against Grandmark over replacement bonnet, headlight, grille and front bumper designs, but Grandmark appealed, arguing that the AD registration for such components is ultimately invalid, that BMW can't claim a particular AD intellectual property for product shapes like headlights and bumpers because as parts they "are not judged visually but are dictated by function", as opposed to the overall shape of the car (which BMW also registers). Now a South African court has finally ruled in favour of Grandmark. The judge ruled that car parts must be considered separately from the entire car and that BMW needed to explain the "novel and aesthetic features" of the individual parts to uphold its claim to IP rights. The judge said BMW didn't do that.
We are the world
* Two Brazilian firms have been testing a urinal containing a fretboard that makes musical sounds as liquid hits it.
The devices were set up in several Sao Paulo bars to see if men's aims improved.
In a project that has already gone live in 200 Michigan bars and restaurants, the US state's Office of Highway Safety Planning has installed "talking" urinal deodoriser blocks featuring a female announcer urging inebriated patrons to call a taxi.
*Police near Tampa, Florida, charged Robert Suggs, 36, and David Hall, 28, with taking a front-end loader and a dump truck from a construction site and using them to steal an ATM from a bank.
The theft took place at 5am, and police arrested the pair later that day, near the bank.
They were still trying to get the ATM open.
*Grandfather Paul Berloni, 49, was arrested for drink-driving when police in Florida spotted him driving an SUV and towing his 7-year-old granddaughter in a toy car.
He told police he was only going slowly.
Later he admitted his licence had been suspended following his last drink-driving charge.