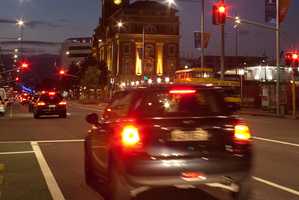 Motorists are always looking for intelligent ways to save petrol but coasting downhill in neutral with the engine idling is a dangerous and ineffective method of cutting fuel bills, say experts.
The myth is that if the engine and drive-train are uncoupled during a journey the engine speed will drop to no more than if the car were standing at a traffic light, thereby saving fuel.
According to experts, however, the fuel savings are negligible and are far outweighed by the dangers involved. When the engine is no longer connected to the drive-train a car becomes harder to handle in sharp corners. Overall more braking force is needed at the wheels since the engine is not acting as a retarder. This can lead to brake fade as well as wearing out pads and discs more quickly.
On top of that, when the driver puts the car back into gear after coasting downhill, the engine's fuel injector system will squirt in more fuel to stop the motor from stalling and so any savings are cancelled.
A more effective way of squeezing more out of the car's fuel tank is called "hyper-miling" or just gentle driving.
This requires working the accelerator and brake gently and reading the road ahead in order to avoid jerky progress. Drivers should ensure the engine has warmed up properly before setting off and avoid high speeds altogether.