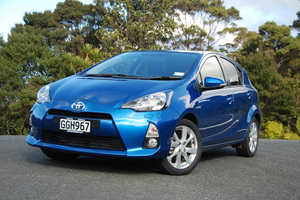 Toyota's early Prius minimised the compromises made by the first generations of hybrid cars to go on sale.
Luggage room was relatively good and you could fold the second row seats to carry more.
The design was fresh and suggested new technology without getting silly about it.
But it never really rivalled the best mainstream equivalents with conventional powerplants. You'd buy because it was a hybrid, its design and relative practicality the icing on the cake.
But this smaller Prius c is a good all-round hatchback you'd buy because it performs in all the areas you expect and now it's the hybrid powertrain that's the icing on the cake.
One key to the car's success is that it uses the same 1.5-litre petrol and electric motor pairing as its bigger Prius sibling, in a car that weighs 245kg less.
That not only makes for perkier power delivery but incisive handling, aided by thoughtful placement of the battery almost amidships, to improve weight distribution.
Like all modern hybrids, you can ignore the mechanical stuff and just drive as you would any auto, with the petrol and electric powertrains doing their complicated tag-team act without intruding on occupants.
The car itself is just like any compact hatch, carrying four passengers in relative comfort, plus 305 litres of luggage.
The specification list includes seven airbags, stability control, climate air and keyless start.
Or you can set the info screen to make you feel smug about your purchase. Just enter the price of petrol, the average thirst of your mate's car, and keep an eye on how much you'll save.
I spent 9c a kilometre compared with my neighbour's 17c.
You can see how far you travelled on electricity alone (96km of my 320km test). And you can check out your current and average fuel use, our test car sipping 4.5l for every 100km we travelled.
That's over Toyota's 3.9l/100km claim, but not by as much as our hilly commute and throttle-heavy driving habits would suggest, and was achieved without trying.
All that and a $30,990 entry price, or $34,990 for this top-spec car, puts Prius c firmly on map for compact hatch buyers and slots hybrid tech into the Kiwi mainstream.