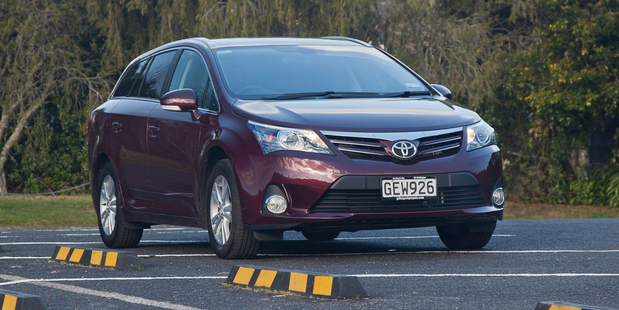 Japanese-European lineage brings the best from both worlds
Time to take another look at Toyota's Avensis, wagon shoppers. That's the nice-looking mid-sizer you might have looked at ages ago, quite liked, but decided Hell would freeze before you paid that much for one.
It wasn't that Toyota was out to rob mid-size wagon buyers. The Avensis comes from Europe, Toyota being a global brand, and for ages the New Zealand dollar was a poor relation to the euro, not uncommonly trading at less than 50 cents.
Today's euro is well into the 60c range and with an upgraded Avensis in the offing, Toyota has decided to try again, adding more features and dropping the price to $47,990. That's more than $6400 less than before and Toyota reckons it is ready to dominate the medium four-cylinder wagon sector.
Its size and running costs make Cheaper Avensis a prime contender in the fleet market, where its predecessor the Camry wagon was once a favourite. An Avensis is also bound to appeal to private motorists, with its Japanese-European lineage.
Peer into its nicely trimmed cargo area and look at those heavy-duty tiedowns running on rails and you might think it was an Audi, Skoda, Volvo or some other top Euro wagon.
But unlike many of the Europeans, choosing one's not going to take ages of wading through model lists with vast options. The Avensis Tourer comes in one configuration, a choice of colours and a few basic options.
Power is from a 1987cc petrol engine via a Continuously Variable Transmission (CVT) that includes a seven-step sports sequential manual mode. Power is 112kW and torque 196Nm. Consumption is rated at 7.1 litres of fuel per 100km overall - unfortunately premium grade is recommended - and the exhaust emits just 165 grams of CO2 per kilometre.
With that kind of torque and power and a kerb weight of around 1500kg, the Avensis is no rocket wagon, but it's brisk enough most of the time and rewards with a decent ride, crisp handling, a good level of comfort and well controlled levels of noise, vibration and harshness (NVH).
Those who dislike the whirring and slurring often associated with a CVT will find refuge in the manual side of the transmission. The "shift points" are well chosen and the nanny computer allows the driver considerable leeway in their use.
The exterior looks more purposeful than before, the result of some nipping and tucking.
Interior changes include a revised seat design and new instrument panel. Its six-speaker audio has a USB port and audio streaming to a Bluetooth hands-free telephone system.
At the business end, the 543-litre luggage area now has a cargo net and side boards to help further secure cargo. With the rear seats folded, capacity grows to 1609 litres.
On the safety front, the Avensis has a healthy list of acronym-rich good stuff: ABS braking, Electronic Brake-force Distribution (EBD), Brake Assist (BA), Traction Control (TRC) and Vehicle Stability Control plus (VSC+). It comes with a five star Euro NCAP rating thanks also to airbags in all kinds of places.
Comparison shopping will reveal mid-size wagons with more gear at around the same price but as an overall package for less than $48,000, the reborn Avensis is bound to do well.
Bottom line
Toyota's appealing mid-size wagon emerges from the GFC with a new fiscal policy that you needn't be an economist to love
Others
Ford Mondeo LX $44,490
Hyundai i40 $44,990
Mazda6 GLX $43,795
Skoda Octavia TSI 118 $44,000