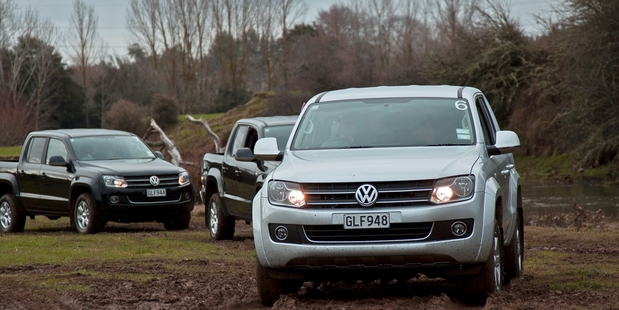 Volkswagen's new Amarok is more than just the first ute with an eight-speed auto transmission, it points the way to a new generation of off-road vehicles.
By mixing a full-time 4WD system, in this case Volkswagen's 4Motion, with a couple of really low gear ratios, the company's able to offer a can-do off-roader without the weight and mechanical complexity of a conventional transfer case and its reduction gearing.
Crawl-along gearing is important to maintain good control and forward progress in many off-road situations.
Vehicles with a special low gear have appeared from time to time. But they were often too much of a compromise compared to the ubiquitous reduction gearing that creates a lower ratio for every gear in the gearbox, including reverse.
However, with lower vehicle weight a key ingredient in today's fuel economy recipe the configuration has suddenly become more appealing.
Many companies, Land Rover among them, are said to be seriously looking at the arrangement.
The Amarok double cab Driven tried this week at a soggy site south of Auckland suggests the configuration has merit when teamed with such modern electronic aids as hill descent control (HDC) and traction control.
To make driving easier, a switch near the shift lever sets up the vehicle in off-road mode.
This includes turning on the HDC and modifying the ABS to be more effective off road. Another switch turns off the stability control that might otherwise interfere with maintaining momentum in slippery conditions.
In its special first gear, the Amarok descends steep hills at a similar speed to many diesel off-roaders with automatic and conventional low-range gearing.
It's a no-fuss way to drive off-road. Eight-speed Amarok would be great for routes that require frequent swapping between high and low range. This switchover typically involves stopping the vehicle, putting the transmission in neutral, then moving the range selector lever. With Amarok, it's just point and go.
At the other extreme, Amarok's tall eighth gear for highway cruising eases the engine's workload and contributes to the fuel consumption rating of 8.3 litres/100km, overall. It's the quietest, most refined ute cruiser on the market.
The transmission is made by ZF, adapted from the unit in Audi's A8. It's fed by the new Twin Turbo TDI engine that produces 132kW of power and 420Nm of torque from 1750rpm. CO2 emissions are 219g/km. As with all Amaroks, braked towing is now rated at 3000kg, up from 2800rpm.
No wonder Volkswagen expects the automatic to dominate Amarok sales by as much as three to one.
The Double Cab eight-speeder comes to market at the same time as a new body variant, the Super Single Cab. They're part of Volkswagen's declared desire to move "from Niche Street to Main Street" over the next few years.
Arrival of the new versions gives Volkswagen products in almost all segments of the ute market, at a time when the company is looking to sell 2000 commercial vehicles a year in New Zealand within 18 months.
Local sales this year are expected to be 600-700 units. The company is looking for 1000 next year.
However, Volkswagen reckons it's "a time game" to bite to the core rural ute market which, it says, is characterised by "habit-based" buying and "high concessions". In other words, cockies who buy Toyota after Toyota and expect a big discount.
Amarok's biggest success so far has been among private buyers and small-to-medium fleets that have a "high appreciation of quality" and of low running costs over high mileages.