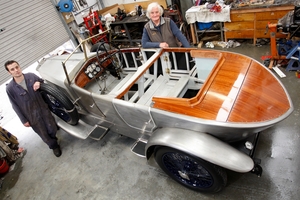 She's 88 years old, one of only two left in the world and she's heading home to Italy.
The rare 1924 Fiat 519S has spent the past 11 years in a shed at Kauri, north of Whangarei, being restored. The Fiat will be trucked to Auckland today before being shipped to her new owner in Trieste, Northern Italy.
The 4.8-litre 519 Speziale was bought by Whangarei vintage car enthusiast and restorer Hans Compter as a wreck, with little more than the original engine - they later found a spare - chassis and front of the vehicle still intact, at an auction in Richmond, Melbourne, in 2001.
Mr Compter said about 4000 hours had since been spent restoring the Fiat, with his son Dennis putting in most of the time. Dennis, not quite lovingly, refers to her as the Sleep Stealer in memory of the many late nights he's spent on her.
However, they will also be a bit sad to see her go, too, after the efforts they, along with Kaitaia panel beater Vince Mason and engineer Dion Coleman, have put in.
Mr Coleman was the only non-Northlander working on the project, while Mr Mason formed the complex bodywork, which goes from concave to convex and back again.
Fiat made 2411 of the luxury 519s between 1922-1927 and there are only two left, with this car being the only one having the stylish boat-tail rear.
Hans would not reveal how much he paid for the car, or how much he sold it for, but said about $400,000 would have been spent on it by the time the new owner added his own finishing touches, including painting the interior and a few fittings.
"We normally do total restorations, but this was a regular client who wanted it in this condition so he could then add the rest," he said.
Hans said the car was imported to Australia 88 years ago.
"They were well ahead of their time when they were made, too. She had overhead valves, hydraulically assisted brakes and on all four wheels, and an adjustable steering wheel."
Hans said most people thought of Fiats only as small cars, but the 519S was the second-largest Fiat ever, behind a 6.8 litre V12 monster produced in the 1920s.
Dion had been putting the 519S through its paces and said it drove really well.
For more articles from this region, go to Northern Advocate