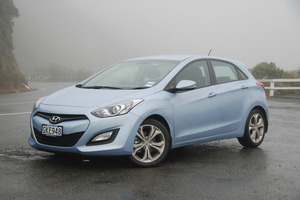 Hyundai's i30 is the Korean brand's biggest seller, and key to consolidating a podium position on NZ's sales charts.
What's new
Most obviously a handsome new design, it stops the right side of the OTT aesthetic the brand has recently favoured.
This second-generation car is based on a modified Elantra platform, albeit with a different wheelbase. It's 55mm longer than before, slightly wider yet lower to the ground, for sleeker lines and a more planted stance. Space up front has benefited, though rear passengers get marginally less room, while boot space has risen 38 litres to 378, despite provision of a full-size spare wheel.
The 1.6-litre diesel gets a power boost from 85kW to 94, with torque still 260Nm and thirst now claimed at 4.5l/100km for the six-speed manual, or 5.6 for the six-speed auto (we averaged 7).
The 1.8-litre petrol engine that will outsell it replaces the outgoing 2.0, with tweaks to lift power to 110kW and drop thirst to 6.5l/100 (manual) or to 6.9l/100km (auto); we achieved8.1.
The company line
Petrol dominates this segment, thanks to government policy on diesel RUC charges, but Hyundai says diesel will remain in the mix for fleets. An i30 wagon will arrive in entry petrol or diesel format in September, but there will be no 1.6-litre petrol version, to avoid direct competition with Accent.
What we say
Handsome design and solid build quality will give Toyota's soon-to-be-replaced Corolla a run for its money. The petrol i30 opens at $34,500, including stability control and seven airbags, plus Bluetooth and a reverse camera hidden in the rear badge.
Private buyers will prefer its Elite sibling at $39,990, which also gets seat warmers, keyless entry, an electric park brake to liberate more centre console space and the rather nice welcome home feature.
The car detects its key approaching and welcomes you by unfolding the wing mirrors, and lighting the puddle and door handle lamps.
On the road
Thanks to weather-induced travel delays, leg one of our shortened launch drive took place in rain-lashed darkness. But we soon learned to trust the predictable handling delivered by the MacPherson strut front and torsion beam rear suspension, while day two's Rimutaka traverse tested the flex steer that lets you alter the steering weighting from light, for round town, to firm during sportier drives. At any setting the steering remains rather uncommunicative, though only the keenest drivers will find cause to complain.
The rest will make good use of the "eco" button that alters engine, auto transmission and air con to cut fuel use by 5.8 per cent.
Plentiful work on door seals and aerodynamic elements has cut wind noise, though the car remains quieter on the 16-inch wheels and higher-profile tyres than on the 17s.
Why you'll buy one?
You want a smart design, quality build and a generous specification list for your mainstream budget.
Why you won't?
You think you're F1 ace Mark Webber; your back seat passengers need more space.