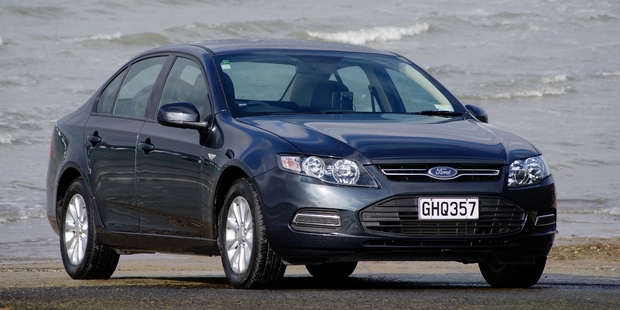 While Ford has wised up to fuel efficiency, Subaru is downsizing.
What's the point of the Ford Falcon EcoBoost 2.0-litre again? Well, it's an entry-level model that gives business buyers the chance to keep some big-six values (space, rear-drive, status), but also really impress the accountant with four-cylinder C02 figures.
There's just one problem: Falcon may have wised up on efficiency, but it's a bit too late: buyers are walking away from large sedans in droves.
In 2004, large cars were 25 per cent of the market; now, they're more like 7 per cent. Lots of those people have gone and bought SUVs; but there are many business buyers who still need something a bit more traditional, something three-box with a boot.
Enter Subaru. The local distributor reckons the new Impreza is right on target to conquer some of those disillusioned big-six-sedan buyers. After all, this is not your average medium-size machine: the idiosyncrasy of its boxer engine and all-wheel-drive will be incentives for those mourning their big Aussie machines.
How times have changed. Both Falcon and Impreza were once thought of as gas-guzzlers. Now, the Ford has a high-tech four-pot engine and the Subaru is the most fuel-efficient car in its class, thanks to a new powerplant, Continuously Variable Transmission (CVT) and stop-start technology.
So there we have it. Subaru says it can make downsizing a pleasure. Ford says actually, you don't have to. Which is the better option? To find out, I took both of these cars down the main road from Auckland-Taupo, return.
The test: open-road performance, real-world handling, comfort and fuel efficiency.
It's a closer match than you might think. These cars are even pretty close in price. The Falcon EcoBoost is only sold in entry-level XT specification: at $48,490 it's got all of the essentials such as single-zone climate air conditioning, Bluetooth, iPod integration, cruise control and reversing sensors.
But Falcon XT money also buys you a top-line Impreza SL sedan: this $46,990 model boasts a luxury kit that an XT driver can only dream about, such as leather upholstery, satellite navigation, power seats and power sunroof.
Let's get to the facts and figures: the Subaru easily won the fuel consumption contest, with an average of 6.8 litres per 100km for the 600km trip. The Falcon did well though, with 7.5 litres.
They're both machines that reward the driver. I'm no fan of CVT, even a system called Lineartronic that Subaru swears is not really CVT at all (it is).
But it works well on the open road, providing you're not pressing on all the time. And the Impreza is still one of those mainstream sedans that still has decent steering feel and a chassis that flows from corner to corner.
The Falcon is better still. The steering is superb, the combination of a punchy four-pot turbo and proper six-speed automatic gearbox simply delightful and the rear-drive chassis really well-sorted. Even an entry-level Falcon XT on tiny 16-inch wheels is fabulous to drive.
Aussies know a thing or two about long-haul comfort as well. The Falcon's driving position is still too high, but the seats are incredibly supportive and the car is surprisingly quiet at speed.
Falcon has large-car dimensions on its side of course, so if you need the space it's an easy decision. It'll carry five in comfort and boasts a 505-litre boot. Performance is superior, too: power-to-weight is 111kW per tonne, versus the Impreza's 80kW per tonne.
And yet, you're still driving an entry-level fleet car. Size ain't everything: the Falcon doesn't have the cachet of a top-line Impreza. The Subaru looks and feels a bit special by comparison, and, CVT-or-not, it's still better to drive than most of the mainstream metal out there. Plus it has the advantage of all-wheel drive.
If we're picking a winner, it has to be the Subaru. If you're a big-six buyer wanting to downsize, it offers something special: a characterful engine, all-wheel drive and a lot of luxury equipment. For the business buyer, it's a car for the times. Purchase order approved!