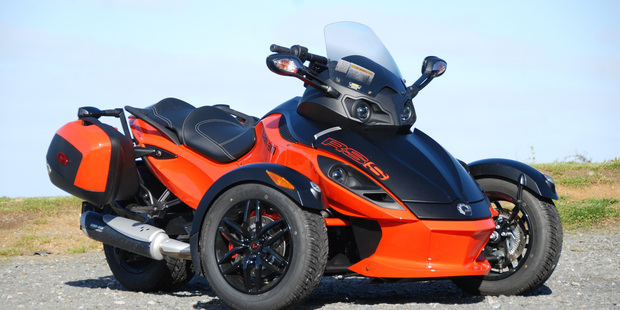 Legally it's a car, but it delivers that motorcycle experience.
These sparkling-bright winter days are made to get out on the road on a motorbike - the winter sun on your back and a whiff of impending spring tickling your taste buds.
But attaining a full motorcycle licence and then spending years riding small-capacity bikes is a long road to the romance of a mighty motor throbbing between your knees.
Which is where this CanAm Spyder comes in, for it delivers the soundtrack and the wind-in-your face feel of a bike, but it's registered as a car and ridden on a car licence. Instant petrolhead nirvana?
Under all that capacious bodywork a 998cc Rotax V-twin engine delivers 79kW and 104Nm to the single rear wheel through a five-speed transmission (there's a semi-auto, too) and belt drive.
That might not sound like much, but that power is in line with a Toyota Corolla wagon which weighs 1135kg, to the CanAm's 350kg.
That's more than you'd want to lift, but no manhandling is required - there's even a reverse gear and a park brake.
Just swing a leg aboard, thumb the throttle and go.
The $26,357 RS-S we're testing is a sporting model with a manual transmission like a bike accessed via a hand-operated clutch and foot gearchange, no harder to master than a car's foot-hand set-up.
Your right foot operates the disc brakes, with ABS and stability control to help keep you on the tarmac, and your hands grasp handlebars that you turn to steer.
But you can't sit like the proverbial sack of potatoes, casually swinging the CanAm round bends. Despite the power steering a bit of body English is required to corner effectively, but you soon get the hang of it.
I began at a sedate pace and rapidly gained confidence, hauling the inside bar inwards while pushing the outside bar round the bend, weighting the outside peg as I went, winding the throttle on to get that rear wheel to drive me round.
Drivers steer quite passively; do that here and the Spyder tends to push its nose wide.
An active riding style is part of these bikes' appeal, though at slower speeds, and round town of course, they're more relaxing than a big bike.
You can't overbalance, you can park on any slope, and they're so eye-catching there's never a problem with other drivers failing to notice you.
While many will buy a CanAm for weekend jaunts and Sunday rides, it's also great for urban errands, that 44-litre front "boot" proving impressively roomy.
The sporting RS-S Driven tested had black double-spoke wheels, gas-charged Fox racing shocks up front with pre-load adjustment mated to the standard single swingarm rear, plus carbon black aluminium parts, upper suspension arms painted to match the tank, a contrast-stitch seat, and recalibrated power assist steering.
Our test machine also had a few cost extras, like saddlebags at $1734.69, the $301.90 screen and a $1135.60 performance pipe that imparts a memorably sound-track.
The only downside is the American builder's nod to safety that means before pressing the start button you slide safety notes from the dash, and press a button to confirm you've done it. Reading them is optional, but you go through this palaver every. Single. Time. You start. The bike.
But you'll get over it, for it's a lot of fun, with all the wind-in-your-face appeal of motorcycling, and the big persona of a mighty American-style cruiser and its own eye-catching style, all easily available to anyone with a helmet, a car licence and a love of exploring far horizons.