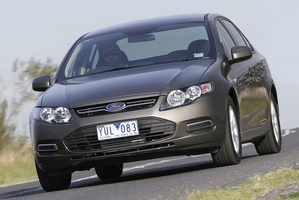 The Australian federal government won't be handing over more cash to prop up the car industry, despite Ford Australia downgrading production and axing 440 jobs.
Ford said will drop daily production from 209 to 148 vehicles in November in response to an industry-wide slump in the sale of large cars.
The 440 job losses will be split between its plants in Melbourne's north and Geelong.
Workers will be sacked if the target cannot be met by voluntary redundancies.
Federal Industry Minister Greg Combet says no new federal funding will be given to the car industry.
"We have $5.4 billion (NZ$6.07bn) committed through to 2020 with the auto industry," Mr Combet told reporters in Sydney.
"I'm not committing any funds at this point in time to anything additional."
Prime Minister Julia Gillard said the job losses could have run into thousands if the government hadn't struck the earlier $5.4 billion industry deal.
"If we hadn't stepped forward to work with Ford we would be talking about job losses in their thousands," she told reporters in Perth.
Ford received a $103 million package from the Victorian and federal governments and its US parent company in January this year for a production upgrade, securing the manufacture of the flagship Falcon and the Territory SUV at Geelong and Broadmeadows until at least the end of 2016.
The federal government's contribution was $34 million and the Victorian government is believed to have kicked in about $9 million.
Premier Ted Baillieu said he was confident Ford would meet the targets associated with the January package.
"I am at least pleased that Ford have indicated that they intend to stay and they will meet their commitments in terms of arrangements entered into in January," he told reporters.
Ford worker Medhad Khalifa said employees had thought only 130 jobs would be cut.
"Actually everyone is shocked. No one believed it until now," he told AAP outside Ford's assembly factory in Melbourne.
"We heard before they would cut some people but not this massive number."
Australian Manufacturing Workers' Union national secretary Paul Bastian said the jobs announcement was a kick in the guts for workers and their families.
"It's critical that our governments continue to show support to the industry through co-investment into the industry," he said in a statement.
Ford Australia president and chief executive Bob Graziano said the decision to cut production was driven by slowing sales of large cars, which have dropped by almost a quarter in the first half of this year.
"That segment has been declining for over a decade now and while we thought that it would start to moderate this year it actually hasn't," he told AAP.
Mr Graziano said the $103 million January package to guarantee local Ford production until 2016 remained on track and was separate to Tuesday's announcement.
"Every level of government that I have interfaced with have been very open and willing to talk about the benefits of the automotive industry," he said.
Australians contributed about $17.80 per person through the co-investment model to the car industry, compared with almost $27 in the United Kingdom and about $254 in the US, he said.
"It is an efficient model from a government perspective."
- AAP