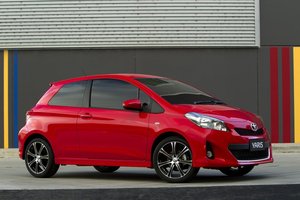 Small, budget-friendly cars with miserly engines and mid-sized sedans are hot. So are hybrids, minivans and traditional, mid-size SUVs.
But big SUVs - luxurious or not - aren't so must-have these days when petrol prices are volatile.
And sporty luxury roadsters such as the BMW Z4 and Porsche Boxster seem to be falling out of favour with US consumers, with sales in the segment down 3 per cent this year, despite strong demand for the restyled Mercedes-Benz SLK.
A US light-vehicle market that climbed 15 per cent in the first six months of this year - defying a string of mostly disappointing economic reports - is producing winners and losers among key product segments.
Market segments that have outpaced or matched the industry's sales growth this year include alternative-powered vehicles, minivans, small crossovers and traditional SUVs such as the Jeep Grand Cherokee, Ford Explorer and Nissan Pathfinder.
Small pickups, mid-size crossovers and large, traditional SUVs have slowed the industry's growth this year.
Overall, cars have gained ground, with sales up 17 per cent, while light trucks have lost share with a sales gain of 13 per cent.
The mid-size car market has grown 21 per cent this year, Automotive News Data figures show, helped by revamped models such as the Toyota Camry, Chrysler 200 and Volkswagen Passat.
The small, value-priced car segment - including the Toyota Yaris, Kia Rio and Chevrolet Sonic - has surged nearly 80 per cent, helped by the spring rise in petrol prices.
Despite indications that the US economy is slowing, the healthy increase in sales of full-size vans and full-size pickup trucks shows the economy is indeed slowly recovering, analysts say.
Sales of full-size vans increased 15 per cent through the first half of the year, while demand for full-size pickup trucks rose 13 per cent.
Sales of vehicles featuring alternative power sources also jumped during the first six months of the year as petrol prices rose.
The segment, which includes traditional hybrids, plug-in hybrids and fully electric vehicles, posted sales growth of 71 per cent through June.
The Toyota Prius led the segment with 126,654 unit sales, a 90 per cent increase over last year.
With 37 hybrids for sale in the United States, Toyota's division general manager, Bob Carter, says the segment is heating up.
"Prius is the market," he says. "Prius is doing exceptionally well and is ahead of track. We're enjoying that positioning, and more competition helps expand the market."
The Chevrolet Volt also sold well, with a 221 per cent increase in sales through June.
With 8817 units sold during the first half of the year, GM has sold more than it did all of last year.
The minivan (known in New Zealand as the MPV) segment - abandoned by some auto manufacturers in recent years - may be beginning to benefit from a shift in drivers' perception of the historically unhip vehicle with an increase of 16 per cent.
Ed Kim, an industry analyst at AutoPacific in California, says the increase in volume may signal the beginning of a shift in the decline of the minivan's share of the market.
While the minivan thrived among baby boomers, Gen X drivers rejected the vehicle when they started raising families because "that's what their parents drove", Kim says.
But the oldest of the Gen Y's have begun to rear children, he says, and they care more about utility than image.
"Gen Y doesn't really care about vehicles in general; they're far more excited about other things, like technology, smartphones and all that other stuff."
- Autonews