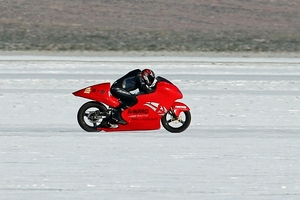 When the doors open to this year's CRC Speedshow at Auckland's ASB Showgrounds on July 21, it will be the sixth running of the event which has become, in many ways, New Zealand's de facto new car motor show.
For the show's developer and promoter Keith Sharp, this year's event achieves some milestones even before the tens of thousands of automotive fans arrive to savour the four-wheeled and two-wheeled delights of the two-day show.
"The New Zealand Hot Rod Association's 50th anniversary hot rod show runs inside Speedshow this year, and that's the first time we've incorporated another show within our show," said Sharp.
"Given the huge audience hot rod and custom vehicles have in New Zealand, we're really looking forward to seeing some world class hand-built cars."
Exhibitor space is virtually sold out, and Sharp said he was particularly proud to have 15 new car brands at the show as well as a strong representation from the motorcycle fraternity.
"Looking back over the previous five years' events, we've certainly come a long way and, with just a small team, I think we can be proud of the fact it's a darn good show for car and bike fans of all ages."
A championship-winning race driver himself, Sharp started Speedshow in 2007.
"We started as a purely motorsport show because of my background and my interest in motorsport. But it became apparent that if we wanted the show to grow to a truly international quality show, as I now believe it to be, that we would have to give it broader appeal.
"The first Speedshow was almost just a circuit racing show because we didn't have any drifting or stock cars -I just rang up everyone I knew and created a cool little circuit racing show which filled the Telstra Clear Pacific Events Centre.
"But even then the goal was to take the show to the ASB Showgrounds with all the advantages of that location.
"We were aware that New Zealand hadn't had a true motor show for some time; as far as I know, it's perhaps more than 20 years since one has run. So we started approaching car and motorcycle companies, and each year more and more have got involved."
"The only drawback we heard was that the name of the show is 'Speedshow', which some motor company managers thought meant the show wasn't relevant, perhaps because they knew it more as a motorsport show.
"Since the global economic crisis, a lot of traditional motor shows around the world have been scaled back or closed because they're unsustainable. One of the reasons we think Speedshow has been so successful, growing year after year, is its eclectic mix of many forms of motorsport, vehicles with real history and people to share those stories, live-action and entertainment, and new cars and bikes."
Sharp says New Zealand's isolation has made it quite difficult - and expensive - to bring unique attractions to the show but this year's show includes Jetblack's full-size concept car of the New Zealand-led challenge for the world land speed record and the world-record open class Suzuki Hayabusa.