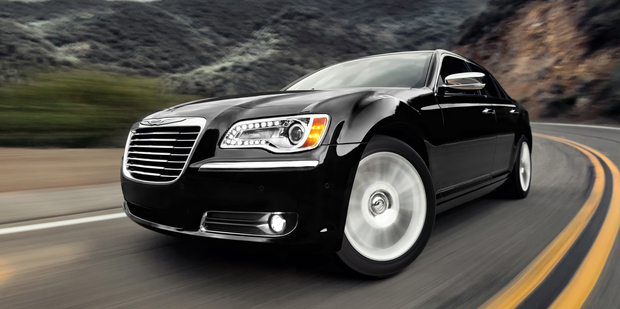 It's hard not to be in two minds about Chrysler's new 300, which puts the company back into the big car game after a two-year absence.
When the gangster-cool 300C appeared in 2005, it was its staunch stance, wide look-at-me grille and ballsy design that sparked a renaissance of the long-standing nameplate. It certainly wasn't its handling or interior quality - the last-gen 300 felt to me like a modernisation of the good ol' Valiant Regal a couple of decades too late.
But the latest 300 gives the model a new lease of life - it's got everything that opens and shuts, the build quality has improved vastly and its standard equipment list seems at odds with its relatively modest list price.
A swing at the ever-shrinking large car market, particularly that part occupied by Ford and Holden, has prompted a calming of the niche style that set earlier models apart. The grille has fallen forward, and while it is still unmistakably a 300, it doesn't quite have the impact of the last model. And aside from the SRT8 hero model, there's no Hemi V8 in the range.
Looking at the full picture though, the vibe is still there - wide, pumped arches, rear lights that evoke muscular motors of the 70s and super-high sills ... it's just not as Tony Soprano as it used to be.
The market will decide whether it's a good or a bad thing, but Chrysler's boundless enthusiasm for the new model will certainly result in it getting a solid push. A launch in a cold and wet Taupo this week displayed a handful of new iterations - the 300 Limited and 300C Luxury models in petrol and diesel form, and the hairy-chested SRT8, with its 347kW monster 6.4L V8. The mid-range 300C is on its way.
The standard equipment on board the 300, even in its lowest-spec Limited form, is highly impressive with safety features such as tyre pressure monitoring, rear-vision camera with park-assist features, ready alert braking which pre-primes an emergency stop when certain criteria are met and even rain brake support, which gives the brake pads a feather light squeeze against the rotors when the windscreen wipers are on to improve stopping distances.
There's "acoustic" glass - a sandwich of safety glass and acoustic deadening material to quiet the cabin - and a refined windscreen angle further lowers the road din. As one of the Chrysler chaps put it: "Rolls-Royce say their cars are so quiet you can hear the clock ticking - this is so quiet that you can't".
Hushed-up time-pieces aside, there is no doubt that Chrysler has lifted its game on this one, as big stakeholder Fiat and its famously fussy CEO Sergio Marchionne imbue higher standards for all its brands.
The 300 has gone from a big basic behemoth, to a far more refined and tractable car.
The cloth-trimmed Limited version didn't really pull my chain. Its plasticky dash lets down its chrome-dripped exterior and flashy dash set-up as soon as you get in.
But the well-finished leather wrapping of the Luxury version certainly lived up to its name. Its 20-inch wheels, heated seats and steering wheel, tidily-stitched leather and adaptive cruise control are just some of the additions that should have sales teams for the other brands scrambling for answers.
Optional extras stack up very nicely as well. To upgrade from the 18-inch wheels and tyres is just $1000, and to bin the standard Alpine OEM audio system for the stunning, high-powered Harmon Kardon 19-speaker audio set-up is just $1800.
I'd consider both of these upgrades
The Chrysler 300's styling is unmistakably Detroit, and it has all the bells and whistles, including the clock that can't be heard and adaptive cruise control buttons on steering wheel cluster.
TextBox1as must-haves, as trying to achieve similar results without ticking the option box will cost significantly more. Curiously, the only upgrade that can't be applied to the base model is the $2850 leather pack.
Two engines are available in everything except for the range-topping SRT (with its outlandish fuel consumption and CO2 output to match) including a brilliant petrol Pentastar 3.6 litre V6, putting out 210kW at 6350rpm and 340Nm from 4650 via an eight-speed Chrysler-built ZF box, which unfortunately doesn't come with any kind of manual shift option.
The oil-burning option is an impressive package, too, a three-litre turbo common rail diesel V6, giving 177kW and a solid 550Nm of torque.
The diesel is mated to a five-speed auto - apparently the ZF is not quite up to the task - but adds steering-wheel-mounted shifters and a side-to-side rocking shifter on the auto selector.
On the road the new 300 certainly shows up its predecessor. Changes to its suspension geometry are one of the key ingredients making it a far more stable machine.
Where the last one had a tendency to shift around like a fat kid on a bouncy castle, this one's turn-in is hugely positive in comparison and the traction control not so interruptive as to destroy a spirited drive.
Pricing for the 300 selection starts at $57,990 for the petrol 300 Limited and $62,990 for the diesel version.
The V6 mid-range 300C that isn't in New Zealand yet costs $62,990 for the Pentastar petrol and $67,990 for the diesel.
The Luxury petrol is also $67,990 and the diesel version $73,990. The SRT8, which has sold out its first shipment, is $87,990.
Will this do the business that Chrysler hopes it will? Probably. It has enough tricks and tweaks to drill itself very nicely into what remains of the large car segment - now a shadow of its former self at eight per cent of Kiwi car sales - and it has an undeniably Detroit look and feel that Chrysler fans will snap up.
The standard safety and convenience features are impressive, and may well be enough of an incentive for buyers of the big Aussies to at least take a look - especially at the extremely tractable diesel 300C Luxury which, aside from the SRT8, is the pick of the bunch.