Honda plugs its Kiwi gap with a hatch contender, writes Matt Greenop.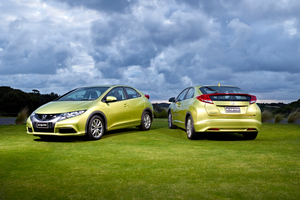 Honda has had a huge gap in its standard offering over the past five years, with no Civic hatchback to defend its turf against hatches from almost all of the other major manufacturers.
We have a sedan on the books in New Zealand - a Japanese vehicle as opposed to the Euro-sourced five-door - but with hatchbacks ranking second in New Zealand's rapidly growing small SUV segment, it's a glaring omission that Honda New Zealand is more than happy to rectify.
The global financial nightmare hit as the last Civic Euro was launched. It would have pushed pricing from sharp to ridiculous, so Honda wisely decided not to bring the car to New Zealand.
Huge pricing disparities between generations serves only to muddy the used market, confuse the new car buyer and annoy people.
Honda's fortunes were also dented by the Japanese tsunami and earthquake and Thailand's floods.
Sure, the IMA (integrated motor assist) hybrid Insight is available here, but it is aimed more at the fuel-frugal, technology chaser than the average Kiwi driver and costs significantly more than the Civic. And the little CRZ is a small two-seater that would require huge compromise to fill the needs of most hatch-hunters.
There is good news - the new Euro Civic ticks a whole lot of boxes in this market. It's a looker, with a rear "wing" incorporating stop lights, a sweeping profile and a short, pointy bonnet, frontal design to emphasise its width and create a fairly commanding road presence for a mid-sized hatchback.
It has storage space defying its small(ish) form, and a high level of refinement, despite a few glaring omissions.
Plus, the Civic Euro will be priced very competitively when it goes on sale towards the end of next month.
We'll be getting three models, starting at the razor-sharp price of $32,990. We'll see a 1.8-litre i-VTEC Euro L - the luxury specification with premium additions including a superb sound system with boot-mounted subwoofer - and manual and auto versions of the lower 'S' spec.
Despite sharing Honda's long-running Civic nameplate, the Euro hatch and current sedan model share only around 30 per cent of their respective parts.
The Euro has been extensively improved over the last model - the "invisible Civic" that wasn't sold in New Zealand - and that was a head-and-shoulders leap over the predecessor.
Its interior is extremely comfortable and well set-up, with driving and entertainment/comfort features purposely divided for ease of use.
Honda says it took inspiration from a fighter plane cockpit, but that's a popular line in vehicle marketing, and it might as well be inspired by the swing-wing spaceships of the Polygalactic Freedom Fighters.
Sarcasm aside, this division means the driver and front-seat passenger can easily access audio functions and climate control, and the driver is left to concentrate on the task at hand.
The gauge cluster is well conceived, with a central rev counter and fuel/temp gauges on either side, and an upper binnacle with a digital speedo and Honda's trick "coaching system" that displays different coloured sweeping lines on either side of the speed read-out, depending on how fuel-efficient your driving is.
A new iMid system is controlled by steering wheel-mounted buttons - a dash-mounted colour screen readout of everything from fuel economy to what's playing on the sound system.
You can even load pictures from a USB thumbdrive into the car's flash memory to display as the "desktop". Those with the right sense of humour could have some real fun with this.
Honda tested the cockpit with people of all heights, and it was very easy to get set up and settled into. Cabin noise is one area where serious work has been done, and 10kg of deadening material were added to ensure a real sense of serenity, from getting into the car through to highway speed motoring. There is a full body undertray to further defeat noise.
The engine is also whisper-quiet until pushed - in true iVTEC nature, when stretched into the upper reaches of the rev range it really comes on song, and while power output isn't earthshattering at 104kW, it is quite tractable on city streets and through windier roads.
As the name suggests, a great deal of work was done on refining the hatch for European roads, and it had hours of testing on those continental highways and byways.
Surfaces ranging from autobahn to cobbled streets revealed the need for a larger torsion bar fitted to the rear, and radically redesigned bushes to absorb bitumen bashings.
This bodes well for coping with the unique roads of rural New Zealand, and combined with stability control and stability assist, the car is happy to be pushed along in the wet.
During the test route from Sydney to Wollongong and back via the National Park, the car handled well over some challenging roads - although there weren't many patches of the heavy chip that punctuates much of New Zealand's roading system.
Feedback from the speed-sensitive power steering seemed light - the car went exactly where it was told, but a more solid feel would have been nice.
The six-speed manual version "S" was quite well-sorted, although did require climbing up and down through the gearbox in hilly areas to maintain consistent drivability.
But it's the sportshift auto five-speed with steering wheel-mounted paddles that will sell here.
While we'll reserve final judgment on the Euro Civic's handling until after the Driven team has put some local mileage on the car, first impressions are that it will be reasonably well-suited to our roads.
Honda is banking heavily on this fact, and aims to sell around 1000 cars in the next 12 months.
The manual S will cost $32,900 and the high spec L will be $38,990.
Initial impressions after a few hours at the wheel are that it would be worth spending the extra $6000.