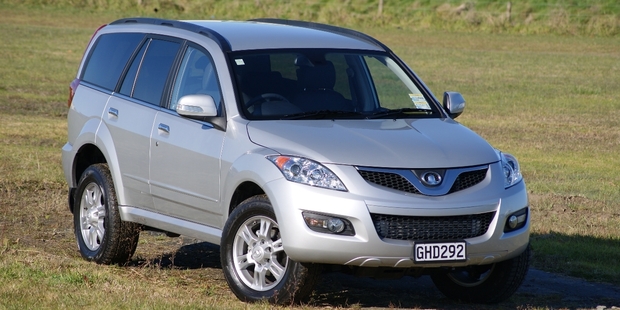 Below-par design means Chinese vehicle competitive in used market.
I've read many reviews of Chinese cars with great interest. This is the first time I've evaluated one myself. It's a tricky business, because already I've fallen into the trap of implying that all Chinese cars are the same.
They're not, of course, but those available in New Zealand do share a short lineage, from what you'd call an emerging automotive industry, which still generally lags behind the design, engineering and quality of its Japanese and Korean rivals.
That explains why they are so cheap: they have to be. Hence the uncontrollable desire to speak of them collectively.
Consider our Great Wall Motors (GWM) X200 turbo diesel test vehicle. At $34,990, the automatic-transmission model is the flagship of the X-series range.
It comes with a 105kW/310Nm 2.0-litre engine, five-speed automatic gearbox, shift-on-the-fly four-wheel drive system, leather upholstery, Bluetooth, climate air conditioning and a touch-screen information display with reversing camera.
By contemporary standards there's plenty about the X200 that's simply awful. The powertrain is noisy and turgid from a standstill, the ride is as unsettled as you'd expect of a ladder-frame chassis (it's based on the same platform as the V-series ute), the steering is laughably slow and the brakes are hopeless.
Stuff like that I expected. But there were a few surprises as well. The X200 doesn't mind corners at all, with decent body control and good grip. The interior plastics are rock-hard and you'll find a few rough edges if you run your fingers underneath door bins and around centre-console cubbies, but the panel gaps are tight and consistent, and there was not a rattle to be heard in our test car.
The leather feels more authentic than some Korean cars I can think of, although the seats themselves totally lack shape and support.
The closest thing I can think of from the competition is a Nissan X-Trail, which in leather-trimmed TL diesel/automatic form costs $51,990.
Compared with the Nissan, the GWM X200 is generations behind in terms of sophistication, but then that's not really the competition, is it?
In reality, the GWM is up against a used crossover vehicle, bringing loads of equipment and a new-car warranty to the table.
Out of interest, I did find a used X-Trail diesel for sale: 2009 model, 51,000km, with the (minimal) balance of the three-year factory warranty to run, for $32,995. Food for thought.
The X200 diesel has not been crash-tested by the Australian New Car Assessment Programme (ANCAP), but the petrol model scores an acceptable four stars out of five.
I'm sure one day soon we'll be talking about a GWM in the same terms as a Japanese or Korean vehicle. We're not there yet. I did rather enjoy my week in the GWM, in an underdog kind of way. Good conversation piece, too.
You still get what you pay for, and I mean no disrespect in saying that with the X200, the price is right.