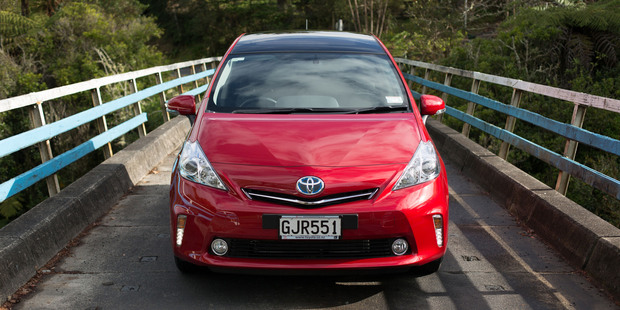 Toyota is plugging the gap in its Prius range with a wagon that is potentially going to prove more useful to the highly profitable family market than anything that has come before it.
The Prius range is already sitting in third spot in global sales - impressive for what started off its life as a niche curiosity before becoming the car to drive for celebs wanting to flaunt some eco credentials and then taking off up the sales charts.
And while the Prius is a reasonably roomy and undeniable frugal hybrid with a unique shape that has made it very popular among green-tinged buyers, it was missing out on those looking for something smaller and again with those who needed more space.
The little runabout slot has been filled with the Prius c, aka Aqua, and now with the Prius v wagon ("v" is for versatile) there's a usable seven-seat option available.
I admit that I'm not the world's biggest hybrid fan, but certainly understand the attraction. So when Toyota held its local launch for the new wagon this week, it was immediately obvious that the Japanese giant is teetering on the brink of another hybrid success.
It's a seven-seater that hasn't busted into the bulky people mover realmwhich means easy maneuverability without feeling like you're parallel parking the Ark Royal.
The seating configuration is undeniably clever, with the centre row of three seats able to slide backwards and forwards independently, meaning that adults are accommodated without yoga-style contortions, there's still having enough room for a couple of kids in the back. There are three childseat tether anchors and two Isofix mounting points.
The centre seats can recline, which is a nice touch, and when there's no need for passengers the back two rows fold down flat and provide a huge amount of luggage space. With all seats occupied the carrying capacity is 200 litres, with the back row dropped this increases to 505L.
For maximum load capacity, the passenger seat can also be lowered, so longer objects can be accommodated without employing dangerous stowage tricks and potentially injuring yourself with something pointy. There's a heap of usable space, with the old technology NiMH battery replaced with a smaller and more efficient Lithium Ion version, which lives under the centre console. Other tricks like concave door panels means interior space without behemoth exterior dimensions.
Where the c is based on the small Yaris platform, the v is essentially a stretched out version of the generation three Prius, with a 2780mm wheelbase (80mm longer) tucked under a body that's 135mm longer at a shade over 4.6 metres and 30mm wider at 1775mm, and 100mm taller.
The wagon's DNA is obvious but there are no shared body panels. It's still slightly awkward looking, just longer and taller.
From the driver's seat the v is capable and comfortable and, while it's not the sharpest handling machine in the world, it's a whole lot better than a people mover. The Prius Hybrid Synergy Drive system has always been an able contender, and while its combination of an 1800cc Atkinson Cycle VVTi four-cylinder engine and electric motor making 100kW between them isn't exactly offering neck-snapping power, it's surprisingly quick off the line and obviously very, very, quiet.
Cabin noise has also been drastically reduced over the Prius, but unfortunately all the good work towards in-car tranquillity is tragically undone by the noisy CVT (constantly variable transmission). When under load, especially up steep hills, it sounds like a slipping clutch and despite knowing that the din is not destructive, it is definitely disarming.
The interior is feeling slightly dated, with the same style of centre-dash binnacle as the 2009 model, and adds a head-up display of current speed in chunky green projected numbers in front of the driver. If you favour a slightly reclined seating position or are what the medical profession calls a "short-arse" then chances are those numbers will be chopped off and become more of a hinderance than a help.
With the well-disguised extra size comes with extra weight - the v tips the scales at 1565kg, 135kg fatter than the normal Prius - and that means a hit to fuel economy, but only slightly. Toyota claims combined consumption of 4.4L/100km, and on the relatively short test route around the Auckland region it averaged around 6L/100km, using the three modes: eco, normal and power.
Three specifications are available, and top-spec i-Tech, which adds tricky items like a pre-crash safety system with brake assist and activation, and a panoramic sunroof; smart key entry for every door; a beefed-up eight-speaker JBL audio system and a pretend leather seats, is $65,490. The Prius v base model starts at $50,990, and the mid-range s-Tech is $55,490.