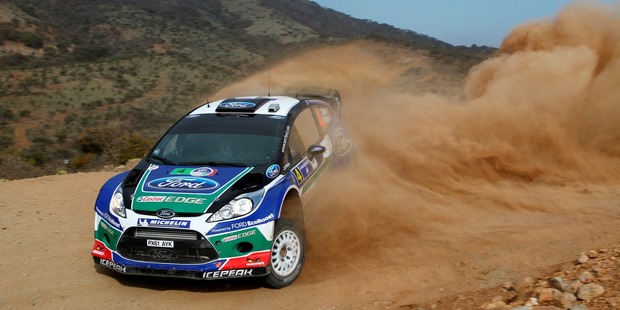 One of the most entertaining World Rally Championship drivers both on and off the dirt is Petter Solberg. The Norwegian has always enjoyed his visits to New Zealand and has fond memories - especially of 2004, when he stood on top of the podium.
The former WRC champion is in a Ford for this year's attempt at winning on Kiwi gravel this weekend and Driven caught him before he jumped on a plane to head to our shores. Despite a big crash in Greece last time out, Solberg still sits fourth in the championship after six rounds.
Driven: Are you out to make amends in New Zealand for your crash in Greece?
What happened in Greece was really hard on me.
It was the first time I have had to retire from a rally this year, and it came when I was so close to victory.
On Sunday morning, as I was chasing Sebastien Loeb for the lead, I could almost taste the win, but I pushed just a little bit too hard and you saw what the outcome was.
I know I need to fight back in New Zealand - and I will.
Will you be keen to win in New Zealand to get back in the championship hunt?
I cannot tell you how ready I am to win now. I have always loved competing in New Zealand and my victory there in 2004 was a very special moment in my career. I know that with the Ford Fiesta RS WRC performing as competitively as it is I will have a great chance to achieve my second win in this rally this year. I'm hungry for it - and I'm ready for it.
Do you think you'll be quick enough to win in New Zealand?
I'm convinced we will be. We have been quick enough to win at every rally so far this year but for various reasons it hasn't all come together yet.
It will, though, and when we have a perfect weekend, well, all I'll say is that the others had better watch out.
You seem to have a lot of speed lately. Where's that come from?
I have a great feeling with the car now. At the beginning of the season, because I'd had very little testing time in the Fiesta RS WRC, I was relying on my team-mate Jari-Matti's [Latvala] set-up, but now that I have got more used to the car I have made it my own and feel very comfortable in it wherever we go.
The more comfortable I am, the more confident I feel - and the more confident I feel the faster I drive.
Is Loeb beatable and where are his weaknesses?
He is definitely beatable. In truth, he doesn't have many weaknesses, but either Jari-Matti or I - and sometimes both of us - have matched him in every single rally so far this season
He made mistakes in Portugal and Argentina, so he's far from infallible. All we need to do is put him under some pressure and see if he cracks.
Are there enough rallies left for you to challenge for the championship?
Absolutely. We are only just at the halfway point of the season. Yes, I lost some points in Greece, but I am still only 46 behind the leader with 196 to play for - so it's a long way from over.
Why do the drivers appear to really like the New Zealand rally roads?
The stages are nice and flowing, as well as being technical and fast - they're fantastic.
You really need to find a good set-up and balance in the car - that's the key to doing well on this rally.
It's definitely one of the toughest on the calendar, I would say, and the weather can make things interesting, too.
Do you have a favourite stage in New Zealand?
It has to be Whaanga coast. It's one of the true classics of the season and it's the stage where I won the rally in 2004, and as well It's tremendously challenging, with a bit of everything.
It's fast and flowing, twisty in places. The camber means you really need to attack - but if you make a mistake, you pay for it.
Something always seems to happen on that stage, as we saw when Jari-Matti won in New Zealand two years ago.
Are you going all out for the win, or are getting more championship points the most important?
Championship points are important, but to win the championship we need to win rallies. And besides, I'm Petter Solberg - I always go all out for the win.