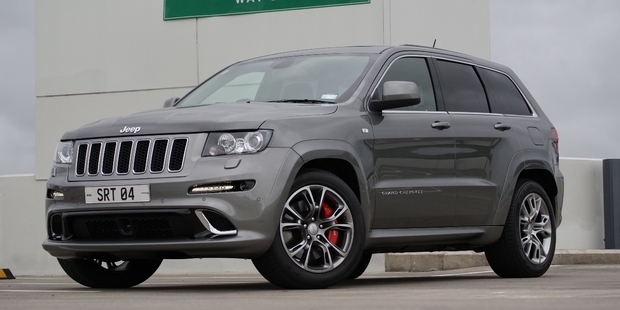 In a recent conversation with Sime Darby Automobiles general manager Grant Smith, he told me that the company's new Jeep Grand Cherokee is "going gangbusters". I think he was talking about sales, but he might have been referring to the performance of this new SRT8 version.
Compared with the previous model, this is in some respects a kinder, gentler Grand Cherokee SRT8: the styling is still special but a lot more subtle than the set-square version.
The V8 engine has gone up 300cc in capacity to 6.4 litres, but has gained Chrysler's fuel-saving cylinder-deactivation technology, which shuts down four of the eight pots when they're not needed.
The awesome-looking central exhaust system of the old car has been eschewed because the position of the pipes was not towbar-friendly, which sounds awfully practical - as does the SRT8's 2.3-tonne braked load rating.
And of course the latest SRT8 benefits from the huge advances in build quality and fit/finish that are responsible for so much of the appeal of the latest Grand Cherokee.
None of which changes the fact that the Grand Cherokee is still a bit muscle-car mad. The big V8 produces a monster 344kW/465Nm, sounds like a Nascar at full throttle and can catapult this 2.3-tonne machine to 100km/h in under 4.8 seconds.
Is it a handful? Surprisingly, no. The five-speed gearbox could seriously do with another gear, but the chassis is sticky, the suspension is firm (not uncomfortably so) and the switchable modes offered on the centre console allow you to alter the car's dynamics depending on the driving situation. In an apparent bid to boost illiteracy, Jeep calls this system Selec-Track.
There's no real suggestion that this car will go off-road, but Selec-Track instantly tailors the adaptive suspension, stability control, gearbox, torque proportioning, throttle and limited-slip differential to Sport, Snow, Auto or Track modes. Or Tow if you must.
Track mode is especially aggressive and really only suited to the, ahem, track. Not to worry, because you'll get to go there if you buy a Grand Cherokee SRT8: every sale comes with expert on-circuit driving tuition courtesy of Jeep New Zealand. There will be no temptation to go silly, because you will be using your own car. At this point I should also let you know that the SRT8 has massive Brembo brakes up front and runs on Pirelli Scorpion tyres. They're run-flats, just like a BMW.
The interior is restrained but sports some nice touches: Nappa leather/grippy suede seats, detail enhancements on the instruments and dashboard/door inserts that we are assured are real carbon fibre - even if they're hidden behind so many layers of lacquer they might as well be plastic. But the best visual element of the driving environment is what you can see outside: the rear-facing nostrils on the bonnet, which are otherwise hidden from view. Yes, that's silly. But so is a high-performance SUV.
The Grand Cherokee SRT8 is not quite as sophisticated as it first seems when you start exploring its performance and handling, but that's okay for a big car from Americaland - as long as it goes fast, sounds great and can keep things together when you make a mistake, which this one does. Most importantly of all, for $106,990 the Grand Cherokee SRT8 represents staggeringly good value for a super-SUV with this kind of performance.