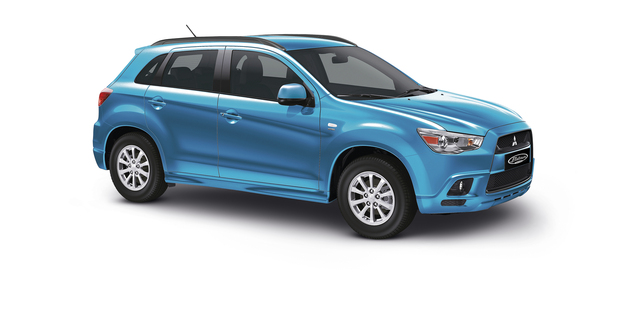 It's a hard road comparing virtually identical vehicles.
Peugeot graciously lists the Mitsubishi ASX as a potential rival for its swish-looking new 4008 compact crossover. I say graciously because I'm not convinced that people who buy European-brand cars really consider the Japanese competition all that carefully.
But with Peugeot it's a case of having to, because the Japanese-built 4008 is heavily based on the ASX - a comprehensive restyle has done the trick on top, but the two are virtually identical inside and underneath.
It does raise an interesting question: given that it's working with borrowed material, is Peugeot charging over the odds for a European badge? Ultimately, which is the better car for your money?
It's hard to compare like with like, as Peugeot keeps things simple with a three-tier lineup, while Mitsubishi serves up five different models. But you can get a sense of things by lining up the entry-level models with the flagship petrol-powered versions.
First, 4008 Active versus ASX LS 2WD. At $37,990 the Peugeot is $1000 more expensive but earns its keep with 16-inch alloy wheels (they're steel on the ASX), a six-speaker stereo (four on its rival), automatic air conditioning versus manual and automatic wipers/lights, which you have to step up to the $40k-plus ASX Sport to enjoy. Rear parking radar is standard on all 4008s, while a reversing camera (built into the rearvision mirror) is an option for the ASX.
Both the 4008 Active and ASX LS have the same 2.0-litre engine: 110kW/197Nm in the Peugeot, 112kW/200Nm in the Mitsubishi. A Continuously Variable Transmission (CVT) is also standard fit.
Both are front-drive, but only Mitsubishi gives you the option of stepping up to an all-wheel drive version of the same model. Both the entry Active and mid-range Allure 4008 models are strictly two-wheel drive, while you can mix-and-match an ASX LS or Sport in 2WD or 4WD.
The flagship 4008 is the embarrassingly named Feline 4WD, while the most expensive ASX petrol is the Sport 4WD. Same powertrain as their lesser siblings, but the Feline ups the ante with 18-inch alloys (17in on the ASX) and leather upholstery (a "sports fabric" on the Mitsubishi) with power adjustment for the front seats.
However, the ASX matches the 4008's gas-discharge headlights and costs $2000 less. Cheaper might SUV twinsThe bottom line:
There might be some sleight-of-hand in Peugeot offering a mildly made-over Mitsubishi ASX under its own badge, but the 4008 delivers honest value and a superior driving experience to its Japanese sibling.
Peugeot 4008ASX4008sound better, but you're still getting more for your money with the Peugeot.
Performance-wise there's nothing in it because the experience is dominated by the noisy 2.0-litre engine and frustrating CVT. This type of "gearless" transmission technology still polarises people. It's smooth and efficient if you're driving slowly, erratic and tiring if you're not.
Fuel economy is the same regardless of brand: acceptable but not brilliant, with 7.9 litres per 100km for the front-drive cars and 8.1 litres for the all-wheel drive versions. We'll say no more - except that CVT is a firm favourite of Japanese makers and largely ignored by most Europeans.
You'll notice very little change in the cabin, although Peugeot has fitted a different binnacle over the main instruments, finished in a texture closer to its other products, in an effort to give the 4008 a bit more French identity from behind the wheel. Nice try, but it doesn't really work.
The big differences are in overall refinement, ride and handling. Peugeot has increased the amount of sound insulation, retuned the suspension and increased the tracks for the 4008 and the results are palpable. It's a more pleasant car to travel in and more fun in the corners than its Mitsubishi cousin.
Surprise: it transpires that you're not really paying a big premium for the Peugeot at all. The 4008 is better value, better looking and better to drive than the ASX. Which seems unfair when the French car owes the Japanese one so much, but that's the way it is. The Peugeot wins.
Unless you want that most French of things, a torquey turbo diesel engine. There's one available for the 4008 in Europe, but it's manual-transmission only and the local distributor has chosen not to offer it for that reason.
Ironically, Mitsubishi does offer a 1.8-litre diesel ASX to Kiwi buyers. With a 112kW/305Nm engine and proper six-speed manual shifter, it leaves every other ASX/4008 for dead in terms of driver appeal. With leather upholstery as standard, the ASX Sport 1.8T diesel is $2000 more expensive than the flagship 4008 Feline. Fuel economy is a deeply impressive 5.9 litres per 100km. What a shame that nobody wants a car of this type with three pedals.