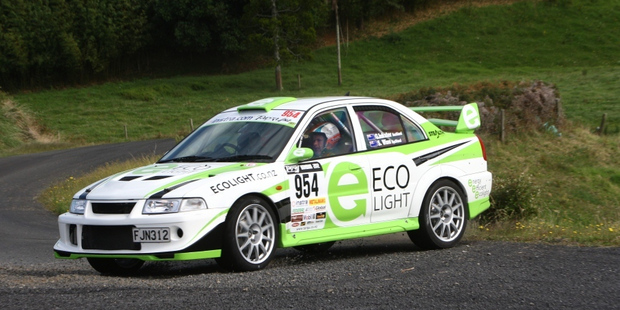 Rally drivers Glenn Inkster and 2010 New Zealand Rally champion Dean Sumner will try tarmac racing in the annual Targa Rotorua this weekend.
The event won't be the first time Sumner and Inkster have tried the black top arena. In 2009, Sumner and Paul Fallon finished second in their Mitsubishi Evo 9, just 24 seconds behind Tony Quinn and Sue O'Neill in their bigger, more powerful Nissan GTR-35.
Inkster, on the other hand, with co-driver Spencer Winn, won on their tarmac debut in a Mitsubishi Evo 6 in the Targa Bambina event on Coromandel Peninsula early in 2011. As well as successfully defending that victory at the Bambina event in February this year, Inkster finished second to Subaru Impreza WRX pair Leigh and Gray Hopper at Rotorua last year.
This, after losing an early lead because of a blocked fuel filter, and second to Quinn and co-driver Naomi Tillett in the six-day Targa NZ event in October.
Despite great starts to their Targa career, Sumner and Inkster still have work to do if they're to get one over Quinn and Tillett who remain the ultimate combination to beat. The pair only failed to finish last year's Rotorua and this year's Bambina events because of driveline failures.
"My plan this year is to win all three Targas," says Inkster.
After years chasing glory on gravel, Inkster says his days of contesting the full NZ Rally Championship (NZRC) are over. "To do five NZRC events plus three Targas was too much, particularly with a full-time job and a family.
"The Targa events are good in another way, too; everyone still wants to win but not at the expense of having fun. And in terms of networking I've probably made more connections as far as business goes in three Targa events than I have in 10 years of rallying."
Sumner says he also enjoyed the less stressful nature of his first Targa, though, like Inkster, he has not entered this weekend's event to make up the numbers.
"We'll definitely be trying our best for another podium," says Inkster.
This year, the Targa Rotorua event has attracted over 90 entries and comprises almost 400km of special stages and 500km of touring stages on both sides of the Mamaku Ranges.
The shortest section is the 18.39km Hamurana stage northeast of Rotorua on Saturday and the longest the 40.22km Te Miro/Buckland stage (which is repeated) from just outside Cambridge to near Hinuera (north-east of Matamata) on Sunday.
Heading the list in the Allcomers 4WD category, after claiming a breakthrough win in the Targa Rotorua event last year, is Orewa pairing Leigh Hopper and Simon Kirkpatrick in a Subaru WRX Impreza.
Competing against them are the Nissan GTR-35s of Quinn and Tillett and Auckland's Harry Dodson and Glen Cupit, Clark Proctor and Tony Callaghan. Lining up with Sumner and Inkster are last year's Metalman Classic category winners, Cameron Young and Steven Fisher in their older but no less potent Mitsubishi Lancer 4WD.
While considerably heavier than the Mitsubishi Evos of Sumner and Inkster, the Subaru WRX of Hopper and the powerful twin turbocharged GTR-35 Nissans of Quinn, Dodson et al bristle with the latest traction and launch control systems so they can cover ground quickly y whatever the conditions.
If any Targa event is going to favour the former gravel drivers, though, it's the Rotorua one, particularly on the first day when all seven stages are contested on the east side of the Kaimai Ranges.
"If it's wet I think Glenn and I will go pretty well because we are used to driving the car with a bit of attitude," said Sumner.
Both may have to kern the edge to get the cars sideways as tyre wear plays a big part in Targa racing. "That's why we've gone to a slightly bigger wheel," says Inkster. "At Bambina last year we literally ran out of tyres and Tony (Quinn) would have walked away with it (the victory) if he hadn't had a (mechanical) problem."