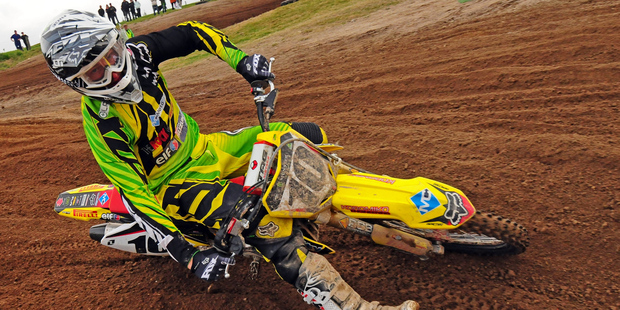 Mount Maunganui's Cody Cooper is again the man to beat on the domestic motocross scene in New Zealand, and he isn't doing too badly overseas either.
The Moto City Suzuki rider was the stand-out individual at the third annual Battle of the Clubs Motocross in Taupo just over a week ago, winning his MX1 class qualifying race ahead of fellow Suzuki ace Daryl Hurley and then winning both his outings in the competition proper.
This meant Cooper, representing the Tauranga Motorcycle Club, was the top individual at the event with fellow Suzuki rider Dion Picard, riding for the Rotorua A team, the only other rider to finish the day unbeaten.
Atiamuri's Picard (Suzuki RM-Z250) won the junior 250/125 combined race and the junior 250-85cc combined race.
Cooper won the MX1/veterans' combined race and the MX1/MX2 combined race, on both occasions followed across the line by Hurley, who rode for the Taranaki Motorcycle Club.
Cooper's two victories were enough to give his Tauranga club the bragging rights for winning the senior section of the weekend.
But it was not quite enough to earn the distinction of Battle of the Clubs outright winners, that honour going to the host Taupo Motorcycle Club.
"It was definitely a good day for me," said the 28-year-old Cooper, national MX1 champion last year.
"I feel like I'm on top of my game at the moment but I still want to work more on my starts."
Mangakino's Kayne Lamont (CMR Red Bull KTM 250) was the dominant rider in the MX2 (250cc) class at Taupo.
Lamont won the MX2/veterans' combined race and finished third overall - behind Cooper and Hurley - in the MX1/MX2 race that wrapped up the day.
Meanwhile, Cooper is also impressing with his Australian Motocross Championships campaign, with that 10-round series now at the halfway stage and taking a brief recess, set to resume at Hervey Bay, in Queensland, on July 1.
Cooper is currently ranked sixth in Australia after five rounds, the Suzuki ace having notched up a race win and several top-five finishes in this fiercely-fought competition.
Fellow Kiwi Josh Coppins (Yamaha), of Motueka, leads the title chase in Australia, a solid 21 points ahead of Australian Suzuki ace Todd Waters.