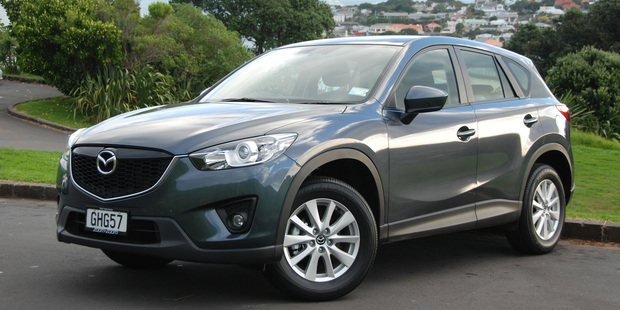 Road-testing cars usually means racking up kilometres over a variety of terrain.
But not in this Mazda CX-5 front-drive GSX, which suffered trial-by-family after an injudicious offer to babysit for three days straight.
That meant two littlies, car seats, push-chairs, cracker crumbs and nappy bags plus lots of short-run trips and plenty of hauling small bodies in and out, just the stuff this car is designed for.
Mazda eased parental concerns by fitting ABS, stability control and airbags plus a crash structure that earned this car a five-star Euro NCAP crash test rating.
A TomTom touch-control satnav answers the oft-repeated "when will we get there" query with startling accuracy and kept my small passengers riveted on the possibilities suggested by the lady living behind the dashboard.
Was there a fairy in the car?
A fairy godmother, perhaps, for this is Mazda's innovative SkyActiv engine, capable of producing 113kW at 6000rpm and 198Nm at 4000rpm and therefore scampering along quite nicely, while sipping frugally on fuel.
Mazda claims 6.9l/100 during varied running, including highways.
My stint spent entirely over short city runs from home to supermarket to ballet lesson and back delivered a regimen that normally blows economy into the weeds.
But we averaged 8.8l/100km, impressive for a petrol car driven in these conditions and achieved in part thanks to start-stop killing the engine at each red light.
Handling? A launch drive suggested it's above average for the compact SUV breed; this week confirmed comfort round town, a useful turning circle and good all-round view eased by a reversing camera, which saved at least one toddler-trike from a squashing.
The huge mountain buggy fit in the 403-litre boot with room to spare, along with nappy bags and work detritus all hidden beneath a "look ma, no hands" tonneau cover that raises and lowers with the tailgate thanks to a neatly telescoping net section.
The second row seats split-fold 40-20-40 to liberate up to 1482 litres and yes, you can carry five passengers, if the centre rear one is narrow and you're not going far.
Most will carry four and use the armrest.
A high-ish windowline meant my Miss Two couldn't see out; were this my car I would change her seat for a taller one. As for Miss Four, she approved the great view afforded by an SUV's higher ride height, the six-speaker sound system and the ability to plug in USB or iPod with ease, while her mum expressed relief she could safely keep in touch as Bluetooth allows hands-free phone answering.
At $41,390 I'd be tempted to pay two grand more for the equivalent all-wheel-drive variant.
As for the diesel, at 5.7l/100km it'd take a while for the fuel saving to offset its $5000 premium.