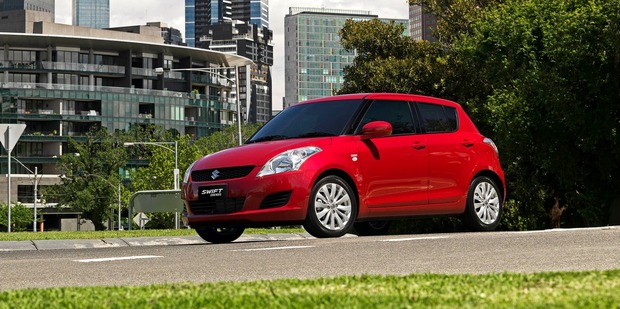 Suzuki Swift DDS diesel. Photo / Supplied
Suzuki's compact diesel works magic on a single tank.
The combined cycle for both urban and open road driving is a more reasonable consumption figure for everyday motoring. The new diesel-engine Suzuki Swift DDiS five-door hatchback, which goes on sale in New Zealand this month, has proved to be a fuel economy wizard after a lengthy North Island drive.
The 1.3-litre Swift used a mere 21.25 litres of diesel to travel from Auckland to Wellington, averaging a remarkable 3.27 litres/100km (85.5 miles per gallon).
It then turned around and headed north along the same State Highway 1 route via Taupo, completing the 1303km journey for an overall average of 3.36 litres/100 km (83.4 miles per gallon).
The Swift was driven by Auckland motoring journalist Donn Anderson, who has competed in many fuel economy events, and was a member of the team that broke Guinness fuel economy records in Britain and New Zealand.
"We always knew the new Swift DDiS would be capable of doing the Auckland-Wellington drive without the need to refuel the relatively modest sized 42-litres tank," says Anderson.
"However, we didn't expect the car to return as far as Mercer before the tank was dry.
"The Suzuki was only 60km short of reaching Auckland, and managed 1240km on the one tankful."
Anderson says the result could have been even better had the car not encountered high winds and torrential rain on the Desert Rd in central North Island. Where possible on the open road, the Swift cruised between 80km/h and 100km/h to provide a real world figure. On the Auckland-Wellington leg, the Swift consumed just 21.25 litres of diesel for a fuel cost of $34, based on a typical pump price of $1.60 per litre.
Factor in the Government road user charge of $28.80 for the distance, and the total fuel and tax cost for the journey was $62.80.
"The Swift diesel is an astute answer to motorists and business users wanting to lower their costs of transport, particularly for those who travel long distances annually," says Anderson. "With 46 per cent more torque than a 1.4-litre petrol-engined Swift, the car is responsive and well geared for local conditions."
Peak torque of 190Nm is achieved at a low 1750rpm and at 80km/h in fifth gear, the turbocharged diesel engine is spinning at around 1900rpm, rising to 2250rpm at 100km/h. The diesel Swift has a five-speed manual gearbox.
Anderson says the standard fitment of the trip computer, with instant and average fuel economy readings, proved invaluable in squeezing out the optimum economy for the constantly changing road conditions. The test proved that with careful driving, it is possible to better posted economy figures from motor manufacturers.
In the official extra urban fuel cycle for highway driving, Suzuki claims a figure of 3.6 litres/100 km (78.5 mpg). "However, the combined cycle for both urban and open road driving is a more reasonable consumption figure for everyday motoring," says Anderson.
Suzuki claims 4.2 litres/100 km (67.3mpg) for the combined cycle, making the diesel Swift the new economy champion in the Suzuki line-up of models.
The new model goes on sale this month as an additional model in the Swift range and is priced at $25,990.