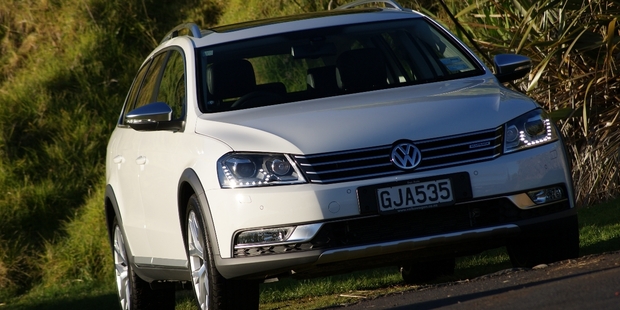 Stop me if you've heard this one before, but I've often described the Volkswagen Passat as the German Camry. Passat people, I mean no disrespect.
A Camry is a nice car: smooth and quiet, well made and decent to drive. But worthy qualities aside, its just a bit mainstream and dull unless you're emotionally invested in sitting behind that particular badge - which is more likely in a VW than a Toyota, I grant you.
The good news is that it doesn't take much to make the Passat a lot more interesting.
Consider the new Alltrack model, which takes the existing Passat Variant (wagon) TDI 4Motion straight into crossover territory.
It's all been done before although not by VW with this particular model.
The formula is familiar: raised ride height (30mm), some extra plastic bits on the outside and detail trim elements on the inside.
There's extra cladding underneath and an off-road mode for the powertrain/driver assistance systems, should you choose to take your Alltrack into the rough. As if.
So it's not original, but the Alltrack is still an appealing variation on the Passat theme - same pseudo-prestige character, but with a more interesting image and certainly a more engaging visual package.
I'd argue that ordinary Passats tend to be for the meek, but this one's a little bit macho. Interesting.
At $59,500, the Alltrack is slightly cheaper than the Passat Variant 4Motion, but lacks that car's leather upholstery and power seat adjustment.
The $5250 luxury pack restores those items and positions the Alltrack at a $2000 premium over its lower-riding sibling. Makes sense.
As does the local distributor's intention to quietly phase out that standard Variant TDI 4Motion and simply run with the Alltrack.
Under the bonnet is the ubiquitous VW Group 2.0-litre turbo-diesel in top (for Passat) 125kW/350Nm state of tune, driving through a six-speed Direct Shift Gearbox (DSG).
Smooth, very quiet and impressively punchy - torquey enough to make you glad the vehicle has all-wheel drive in the wet.
Thrifty too, with a combined fuel economy of 5.8 litres for 100km, which is astounding for such a big car.
As with any Passat, genuine foibles are few.
Our car rode on the optional 18-inch alloy wheels ($2500), which in combination with the Alltrack suspension made the ride borderline fidgety, not something I can recall ever thinking about a Passat.
The automated dual-clutch transmission is a marvel in terms of acceleration and economy.
However, it does suffer from unwanted slip at slow speed or on steep hills - and that's potentially the Alltrack's undoing in low-traction situations, despite the pushbutton off-road mode.
But realistically, that's not a deal-breaker for a car that's more about image than actual off-road driving - just like any car of crossover ilk.
Like Touareg and Tiguan before it, Alltrack has been launched into an important market segment rather late in the piece, but despite that (or perhaps because of it) this is a beautifully executed effort.
The German Camry has become the Continental Outback. Good job.