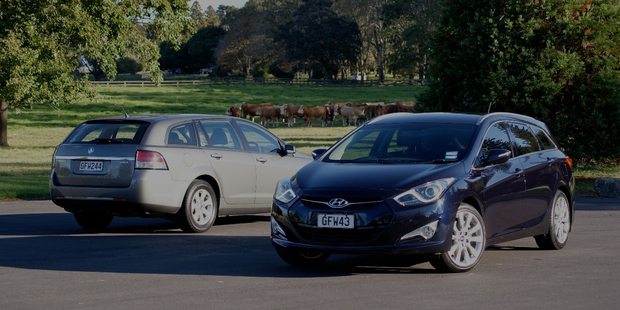 Yes, I know we're all supposed to like crossovers and sports utility vehicles now, but there's still something uniquely Kiwi about a sporty, family-sized station wagon: the focus on driver appeal, the lack of pretension, the ability of these vehicles to blend an enthusiast quality with genuine practicality.
For a bit over $50k you can have a choice of two sleek-looking family wagons: an Australian with loads of heritage and a 3.0-litre petrol V6 engine, or a new model from Korea with a 1.7-litre diesel.
The odd couple? Don't be too quick to judge. The Holden Sportwagon Omega and Hyundai i40 Elite CRDi are closer than you might think: both are svelte five-seat family wagons that aim to combine style with space and versatility.
One's an old-school rear-drive petrol, the other a new-generation front-drive turbo-diesel. But they both aim to provide the same thing: family/fleet transport with a bit of flair.
Interestingly, both are from makers who also offer SUV-type alternatives, so they obviously believe there's still a place for traditional wagons in today's high-riding world.
At this price point we're looking at an entry-level Sportwagon Omega ($52,390) against the fully-loaded i40 Elite ($53,990), with everything from leather upholstery to heated seats to a reversing camera.
Different powertrain technology of course, but remarkably similar real-world performance: the 190kW Holden has nearly twice as much power as the 100kW Hyundai, but torque is all on the diesel i40's side. The Korean car has 320Nm at 2000rpm, compared with the Aussie's 290Nm at 2400rpm. Both have six-speed automatic transmissions.
You can't beat the relaxed gait, linear power delivery and sheer rev-ability of the big six of course, but the verve of the diesel in the mid-range is truly astonishing when you consider the modest capacity - even if it's not the most refined diesel around. There's a big advantage at the pumps, too: over our real-world test route, which included some enthusiastic driving, the i40 returned 7.5 litres per 100km against 12.5 litres for the Holden Commodore VE Sportwagon.
The Omega, on its soft suspension and higher-profile rubber, is no sports car. But the steering feel, chassis balance and powertrain flexibility still make it an enjoyable car to drive. In comparison, the i40 is nowhere: the steering is numb, there's understeer and the hard suspension undermines the ride without adding much in the way of agility. The hyperactive stability control system also demonstrates that the Koreans still have a little way to go in terms of balancing safety with satisfying dynamics - once roused it simply shuts the car down for a couple of seconds. Frustrating.
Neither will be found wanting for passenger space. The Holden is the larger car, on a 2915mm wheelbase compared with the Hyundai's 2770mm. But the Korean car is well packaged and those in the rear seats certainly won't be complaining.
In truth, neither car is a pitch-perfect load-carrier because both put high style above ultimate cargo capacity: note the low, steeply sloping rooflines. But despite the shallow apertures there's plenty of load length. Again, the Sportwagon fares better with a maximum of 2000 litres, although the i40 still qualifies as capacious with 1719 litres.
In the driver's seat, the Holden's humble origins are obvious. There's a simple dashboard design and that same bit of centre-console garnish that fails to fit properly in any Commodore you'd care to examine, although you do get some nice touches such as the Holden iQ touch-screen and dual-zone climate air. The Omega is not one for the snobs, although that kind of honest aura has an appeal all its own.
The Hyundai is packed with equipment but also seems a bit overstyled, with lots of buttons, garish blue illumination and a few ergonomic idiosyncrasies - such as temperature controls for the air conditioning seemingly stuck on the side of the centre console in a less-than-convenient position.