Sales rep spoilt for choice with work-weekend alternatives.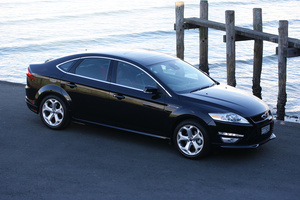 The dilemma:
Through his job as a sales rep, Steve gets to pick his work vehicle and his choice for the past five years has been a Toyota Camry and now a Ford Mondeo.
Now it's time to select his new work car - which he also uses for weekends away with the family at the bach - and Steve has a problem.
"My wife loved the comfortable ride of the Camry but I love the performance of the Mondeo," says Steve.
He also needs a vehicle with plenty of headroom as he and his wife are over 1.8m tall.
"What else do you suggest for a work vehicle? My wife wants a four-wheel-drive but I'm not convinced."
Steve, five years is a long time in the new car industry when it comes to improvements in safety, economy and performance so regardless of what you choose you are going to be impressed. Mazda (Mazda6) and Honda (Euro) both offer excellent alternatives to the Toyota and Ford.
And your wife is not alone in considering the SUV-type vehicle as these vehicles have proved to be so popular and practical for many in recent years. Trying to find a manufacturer which hasn't designed and offered an SUV in their showrooms is almost impossible these days.
The budget:
$45,000
The shortlist:
Ford Mondeo
Ford has always had a great reputation for an excellent road-handling vehicle and the Mondeo has simply gone from strength to strength in recent years as a good all-round package as a family and business vehicle. Styling-wise it can comfortably sit in carparks alongside the more expensive European cars which in itself can be a strong reason to buy.
Toyota Camry
In recent years the industry in general has caught up with Toyota in terms of offering reliability and quality as a reason to buy, so vehicles like the Camry have to rely now on customer appeal. Still a great car and the actual buying price would include a load of accessories.
VW Tiguan
The 2.0-litre TSI petrol model falls just outside your budget but will impress with its high quality and specification levels - it's definitely worth a look. A claimed fuel consumption of 8.7 l/100km places it in the middle of the Ford and Toyota, however heavy use of the throttle (and turbo) may see that figure hard to achieve on a regular basis.
Driven recommends:
It may come down to price; if that's the case I'm sure the Camry will be hard to beat. For the wow factor and driver appeal however the Mondeo gets my vote.