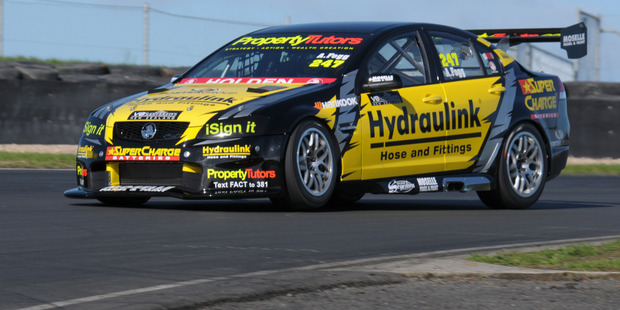 Current NZV8 champ Angus Fogg has unveiled his new Holden Commodore V8 to compete in the rival V8 SuperTourers series this weekend at Hampton Downs.
Fogg has switched full-time to the more powerful V8 SuperTourers and will run all of the endurance races in the second half of the season.
The car was built in record time because Fogg was so keen to make the startline for this weekend's racing, where it will debut.
Fogg headed the car build himself, along with a support network of crew members, sponsors, friends - even fellow competitors - with the vehicle taking only ten days to complete.
V8 SuperTourers are the fastest ever V8 touring cars to race in a domestic New Zealand series and have proved a huge hit amongst drivers like four time Bathurst winner Greg Murphy, Jonny Reid, John McIntyre, Steve Richards, Fabian Coulthard, Kayne Scott, Andy Booth and Scott McLaughlin.
Each of the three rounds held so far has averaged a gate of more than 10,000, according to organisers.
"Every top line racer wants to test themselves in equal machinery against the best drivers out there and that's exactly what the V8 SuperTourers provide," added Angus.
"I'm just stoked to be out there and have to say a big thank you to everyone who has made the whole thing possible, as well as those on the team who have worked tirelessly to get the new car on the grid. I'm revved up and ready to go."
Daniel Gaunt also make his SuperTourers debut this weekend, in a Ford Falcon, for Tasman Motorsports Group, one of the biggest names in US motor sport and run by New Zealander Steve Horne.