Winning's an Adrian Smith habit, writes Andy McGechan.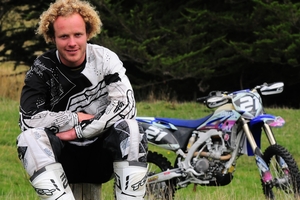 It seems Taranaki's Adrian Smith can do no wrong at the moment.
The 27-year-old Yamaha ace ticked another box on his "things to do" list when he won round two of the popular Dirt Guide Cross-country Championships at The Pylons, near Atiamuri, a week ago.
His success came fresh in the wheel tracks of other major wins recently, including his New Zealand Cross-country Championships at Cheviot just over two weeks ago.
Smith has also been in winning form in the Yamaha New Zealand Enduro Championships. He leads that series outright with just the fifth and final round remaining in Taupo on July 21.
"It's pretty close between me, Auckland's Mike Skinner, Palmerston North's Adam Reeves and Auckland's Chris Power. Whangamata's Jason Davis and Auckland's Karl Power could also throw a spanner in the works," says the modest Smith.
Smith may take some beating at Taupo if his current form is any indicator.
His win in the second round of the Dirt Guide series near Atiamuri was particularly impressive, the farmer from Mokau so far in front of the chasing field that he was forced to complete an extra lap.
Smith arrived at the timing zone at the end of his fourth lap with a minute and a half left still on the two-hour race clock, forcing him to do one more lap than anyone else.
The second-placed rider, Mike Skinner (KTM 300EXC), avoided having to follow Smith onto a fifth lap by just one second and the next two riders, Auckland Callan May (Yamaha YZ125) and Te Awamutu's Kevin Archer (KTM 530EXC), were only a further 21 seconds back.
"I grabbed the holeshot at the start and just rode steadily away," said Smith, who had been on the injured list and a spectator only at the first round of the series last month.
"I sat out the series opener because I wanted to heal properly and be fit and ready to go in the cross-country nationals, but I'm 100 per cent again now."
Rotorua's Scott Birch (Honda CRF250) finished fifth overall with round one winner Chris Power (Honda CRF450), of Auckland, only managing sixth outright on Saturday, although he still won his over-300cc four-stroke class.
This will make the final round very interesting with Skinner having two overall runner-up finishes and Power with a first and fifth, so the points are very close.
Stand-out ride of the day came from Pahiatua's Scott Sowry, the Suzuki RM125 rider convincingly winning the junior race by nearly five minutes.
After race, Sowry's father asked organiser Sean Clarke if the teenager could ride in the senior race as well. He was given the thumbs-up.
Remarkably, Scott Sowry managed to finish eighth overall in the senior race.