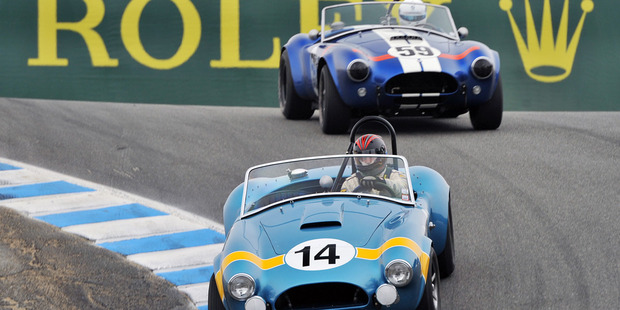 US cable TV channel Velocity has aired a three-part series about Carrol Shelby. It looked at his early days as a chicken farmer and race car driver in Texas, his 1959 win at Le Mans with Aston Martin, the heart troubles that forced him to quit racing, his deal with Ford to build the AC Cobra, his work with Chrysler, and his renewed deal with Ford to build the Shelby Mustang GT 500. Shelby died earlier this month. He was 89. Meantime, the Monterey Motorsports Reunion will in August salute the 50th anniversary of the Shelby Cobra. Around 50 Cobras from around the world will race and another 200 real and replica Cobras will be on display.
Everyone wants credit for success
The so-called automotive bailout of 2009 has become a major talking point in the run-up to this year's US presidential elections. Republicans and Democrats are taking credit for the turnaround of General Motors and Chrysler since the two companies were pushed through a structured bankruptcy. Likely Republican nominee Mitt Romney says he deserves "a lot of credit" for suggesting the managed bankruptcy.
But President Obama frequently cites an editorial Romney wrote for the New York Times in 2009. Titled "Let Detroit Go Bankrupt", it said the automotive industry was "virtually guaranteed" to fail if Obama's bailout proceeded. Meantime, the industry's comeback in the US contributed half of the country's 2.2 per cent economic growth in the first quarter of this year, say analysts. Sales are on target to top 14 million vehicles this year, the best in four years. Production is up at all three US carmakers. Chad Moutray, chief economist of the US National Association of Manufacturers, estimates that every dollar spent on a new vehicle leads to an additional US$2.02 in economic activity. The industry's share of gross domestic product for the quarter was 2.8 per cent, nearly as high as it was in 2007 before the economic crisis.
Rolls film gets into the spirit
Oscar winners Martin Scorsese and Richard Attenborough are teaming up to make a film called Silver Ghost, based on the lives of Rolls-Royce founders Charles Rolls and Henry Royce. The screenplay has been written by Jeffrey Caine (Goldeneye). But reports in Europe say the real hero of the story will be Lord John Douglas-Scott Montagu, the Second Baron Montagu of Beaulieu and an MP who used his position to champion motoring. In 1899, Montagu drove the first car to the House of Commons and later launched a car magazine. He was romantically linked to another key figure in the story, Eleanor Thornton, who inspired the Rolls-Royce Spirit of Ecstasy mascot.
VW sticks to rallies amid F1 speculation
Talk that Volkswagen is looking at a Formula One team began when its executives said it was one of a handful of motorsport options under consideration. But VW's new motorsport chief, Jost Capito, has publicly put the brakes on a move into F1. Capito, who joined VW from Ford where he was head of racing and performance vehicles, said he is focused on VW's new entry in the World Rally Championship. But observers say it doesn't mean VW Group brands Audi, Seat, Skoda, Bentley, Bugatti and Lamborghini wouldn't field an F1 team.
Rare Ferrari goes up for sale
A Ferrari considered to be one of the marque's most desirable goes up for grabs at the Pebble Beach concourse d' elegance in August. RM Auctions says the 1955 Ferrari 410 Sport Berlinetta (below left) is one of only four built - and the only fixed-roof example. Chassis 0594 CM features bodywork by Scaglietti in ivory with blue leather. An elegant 1938 Talbot-Lago Teardrop Coupe is also on offer. Five were built, four remain, and the auction car is expected to fetch upwards of US$2.5 million ($3.3 million).
US politicians are looking at introducing so-called black boxes in cars from 2015. The idea first aired a few years ago when drivers complained of "unintended acceleration" that often led to crashes. The devices will record such data as direction of acceleration, throttle position and time that airbags fired. Opponents say the US Government could use the black boxes to snoop on its citizens. But a bill in the Senate specifies that the data is the property of the vehicle owner. Exceptions could be if the data is needed in a criminal case, or by emergency services at an accident.
Beijing slams 'vulgar' show
The Chinese Government has slammed organisers of the Beijing motor show for using scantily clad women models to adorn cars. The Capital Ethics Development Office says the models had "a negative social impact" and warned organisers not to let "such vulgar publicity" occur again. Next year's motor show will be held in Shanghai, far away from the seat of government, Beijing.
Car reveals driver's mood
Peugeot is said to be preparing "mood paint" for the body of the RCZ coupe. The paint's molecular structure would be alterable by heat sensors in the steering wheel that measure a driver's stress levels. A calm driver's car might turn green - an angry's driver's road-rage red.