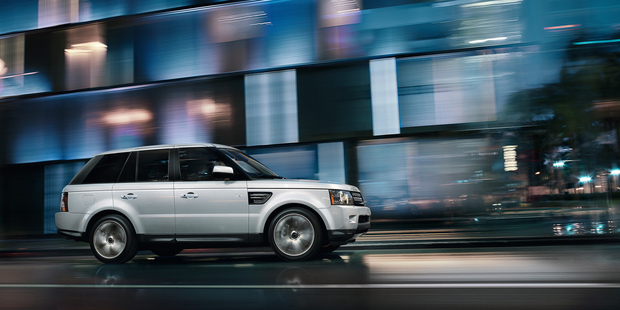 Land Rover's Evoque has beefed up interest in a sporty version.
After the success of the Evoque, Land Rover New Zealand expects increased interest in its luxury Range Rover Sport when it arrives here in September.
Since the launch in November last year, 125 Evoques have been sold with Kiwis preferring the five-door version over the three-door coupe.
The Evoque has also attracted new buyers to Range Rover.
"We currently have an 80 per cent conquest rate for Evoque so plenty of new people to the brand," says Gary Upson, Land Rover NZ's brand manager.
"The Range Rover Sport was substantially revised in 2011 with major powertrain enhancements and raised equipment levels to reinforce its outstanding breadth of capability. For this model we're going one step further, offering even more choice with some great new colour combinations and detail improvements to redefine the Range Rover Sport's class-leading levels of comfort and customer appeal."
The Sport has a new five-spoke, cast alloy wheel design in Sparkle Silver and five new body colours: Barolo, Barossa, Causeway, Havana and Mariana.
The Supercharged model has Red Brembo brake calipers fitted as standard with the option of reverting back to black high performance brakes.
The interior specifications offer two new trim combinations allowing customers to choose a dark upper cabin environment with lighter coloured seats or the opposite way round.
Customers can also opt for a new carbon veneer pack, adding a sharp, contemporary look to the interior.
Introduced at 2012 model year, the Range Rover Sport comes equipped with the highest level of audio equipment. The High-Ice Harmon Kardon system delivers 380W of sound from 11 speakers while the premium Harmon Kardon Logic system produces an astonishing 825W from no fewer than 17 speakers.
The 7-inch touch screen provides owners with the option of Dual View technology, allowing the driver to see the navigational display and the passenger to watch a DVD.
Advanced features include a hard disc drive music server and Land Rover's unique "Say What You See" voice recognition system with screen prompts.
The Range Rover Sport engine line-up remains unchanged for the 2013 model: a 3.0-litre turbo diesel producing 180kWs and a maximum torque of 600Nm; the naturally aspirated 5.0-litre petrol produces 276kWs with 510Nm torque and the flagship 5.0-litre Supercharged, a stunning 375kWs with 625Nm torque.
All engines drive through unrivalled ZF HP28 six-speed automatic gearboxes. Gears can be manually selected by steering wheel paddles when "Drive" is not used.