The man who made Mustang cool leaves an enviable racetrack legacy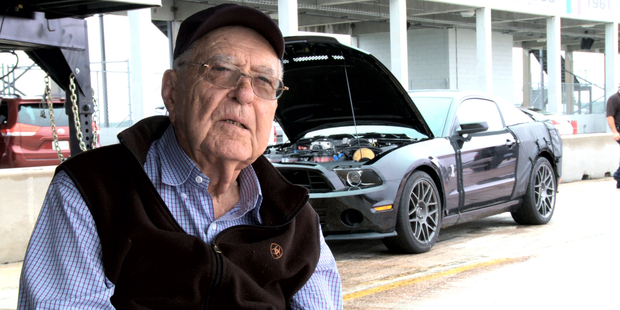 Carroll Shelby was a larger-than-life Texan who told Texas-big stories, each getting bigger by the telling.
One was about his early days in the 1950s on run-of-the-mill racetracks in America's South. It went like this:
"These tracks weren't fancy, so everybody worked on their cars in the shade. This one track had a peach orchard next to it. This guy was working real hard on his supercharger, the kind that stuck up through the hood. So when he left, I just packed that air scoop with peaches. Handfuls of 'em. Now when he came back and fired it up, you never heard such cussin'. Oh, he was mad. It smelled just like peach cobbler."
NZ's Chris Amon laughed at the yarn. "That sounds just like Carroll," he said. "He was a special guy. I hope he's remembered up there with Enzo Ferrari, Henry Ford and the like."
Shelby, whose name was synonymous with all-American muscle, died the other day in a Texas hospital, aged 89.
The heart transplant he received in 1990 had done its dash. Same with the kidney transplant. Shelby had more non-stock parts than a Shelby Mustang, they said.
His heart gave out in his thirties. He should have died in the 1950s when he was racing Aston Martins in Europe, popping nitroglycerine pills under his tongue each race.
Shelby stopped racing in 1960, the year after he was in the winning Aston Martin team at Le Mans. "Doctor told me I was gonna die if I didn't," he said. "I said I didn't mind dying in a race. Then he asked who else dies when my car crashes."
He turned to designing race cars and fast cars bearing his name, most famously the Shelby AC Cobra. He lent his marketable name to others, from the Shelby Mustang Cobra to the Dodge Shelby. In short, he had a huge influence on the US automotive scene.
It began early in the 1960s when he wanted General Motors to sell him Chevy small-block V8 engines to mate with British AC Ace chassis. GM turned him down.
Shelby cut a deal with Ford's chief executive, Lee Iacocca, to get the engines and cash to build what Shelby renamed the AC Cobra, a light, powerful road racer that took European and American tracks by storm.
At Ford's request, Shelby took on another team of factory-built Ford GT40s. In 1965, Shelby won the FIA sports car championship. In 1966, the GT40s won the overall Le Mans championship and a class win in the Cobra Daytona Coupe, making Shelby the only man to win Le Mans as a driver, team owner and manufacturer.
Shelby turned out Shelby 289 and 427 Cobras, and Mustang-based Shelbys for Ford. In 1982, he again joined Iacocca, then head of Chrysler, and turned out high-powered versions of Dodges that embarrassed V8-powered Ford Mustangs and Chevy Camaros.
Shelby reintroduced Cobra 427 S/C continuation cars and 4000-series cars in the 1990s. He was also involved heavily with the Dodge Viper and Ford GT programmes. He was inducted into the International Motor Sports Hall of Fame in 1992.
In this part of the world he is perhaps best remembered as boss of the Shelby-American Ford GT40 team that won at Le Mans in 1966 with drivers New Zealanders Chris Amon and Bruce McLaren.
Fellow New Zealander Denny Hulme and Britain's Ken Miles took second place in a Shelby GT40. Shelby's team won again in '67 and '68, a three-peat that severely bruised European dominance of the 24-hour classic.
Amon drove for Shelby on and off for three years in the 1960s . "He was a helluva good guy, very important to me," said Amon.
"Carroll ran a really good operation, not always in easy times either. In his own way he was another Ferrari (Enzo), although he didn't have the diversity of Ferrari.
"A lasting impression of Carroll as a team leader was his wonderful calmness. In the last few hours at Le Mans in 1966 he was under severe pressure from Ford - Henry Ford was there - to make all sorts of decisions, but he remained unflappable.
"Carroll assembled the best people around him. He had a knack for it. I remember one year at Le Mans going into the Ford garage. The small block engines were blowing head gaskets. It seemed like hundreds of people were in there, all with different opinions about what the problem was. There was total confusion.
"I got talking to an old Texan, a mechanic who had been with Carroll for years. He looked around and said, 'I've been to county fairs, goat shows, public hangings, but I've never seen anything as crazy as this'.
"Carroll was a great guy. He will leave a huge legacy," said Amon. "His Mustangs and Cobras were not everybody's cup of tea but they remain iconic."
Passion for speed epitomised this larger than life character
US motoring writer Jesse Synder writes: Jackie Stewart taught me the smoothest line is usually the quickest. But Carroll taught down-and-dirty tricks. It was in a souped-up (compact) K-car on the Chrysler proving grounds. The track had a steep hill for brake testing, with a hidden left at the bottom. Over several laps, we learned to crest the hill right to left so we came down pointed at the turn, and even how to get some air under the tyres.
"Now I'll show you the fast way," Carroll said and got behind the wheel. We zipped up that hill at the same angle but much, much faster. And just as we braced for big air, Carroll tapped the brakes once. The front wheels never left the pavement and he kept the throttle floored all the way down the hill.
"You can't accelerate while you're in the air," he said with a grin. That passion for speed was what Carroll Shelby was all about. The passion made him bigger than life. It was his edge in everything. And it undoubtedly kept him alive against heavy medical odds all these years.