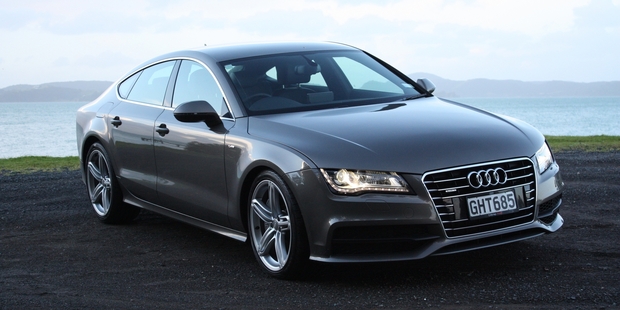 Audi A7 Sportback. Photo / Matt Greenop
There was a time when a coupe had two doors. But manufacturers are clamouring to get large, stretched "coupe styled" four-door cars to market.
Audi's A7 Sportback, like the BMW Gran Coupe unveiled overseas this week, is such a beast.
It's essentially an A6 with a long, sloped back and a bit more exterior soul.
This style of vehicle didn't seem to make much sense when the automotive giants started rummaging through their bags of tricks and playing around with the larger platforms.
But then, little SUV crossovers were never going to be car market stars ... now that seems to have changed this year, too.
Schizophrenic sedans have a tendency to come off looking slightly awkward, as ably demonstrated by the Porsche Panamera which really has only one angle that it looks good from.
Step a metre in either direction, and it just looks confused.
While the A7 Sportback has the Audi-standard blunted front, which dips dramatically towards the back of its huge five-metre length, before tipping up slightly at the back of the hatch, a car-length swage line ties it all together without looking wrong.
The $7000 S line exterior kit option gives the car more purpose, pushes the front end look down towards the road, and gets away from the more sensible look a la A6.
Another $1700 sits the whole package on stylish five-spoke 20-inch rims, and the view becomes sportier and a bit more A5.
But this is a luxury touring machine, and the inside is a high-tech paradise, with the car's multimedia interface controlling everything through either a comprehensive readout on the LCD screen that slides out of the dash, or in the display between the tacho and speedo.
Music, DVDs and Bluetooth audio streaming run through the screen, as does a host of car settings, the built-in navigation system and Bluetooth-linked phone functions.
Control inputs are made through a shuttle-wheel and series of buttons next to the gear selector.
A small number pad is next to this for quick access to radio stations and other functions, but it turns into a handwriting recognition system that lets drivers trace out letters when entering navigation destinations, rather than using the letter-by-letter selection with the wheel.
It is surprising, considering the German taste for over-engineering, that the screen does not offer touch functions.
The big screen is also a display for the reversing camera.
Helpfully, it's got a radar readout in the bottom right corner which gives a more detailed picture of what you're trying to miss.
Stop/start technology has also found its way into the A7.
It can be turned off, but as a fuel saving measure, and a token gesture of environmental awareness, it's worthwhile. Either way, the C02 output is only 190g/km combined over urban and countryside driving, and the fuel consumption was under 12l/100km, not too far removed from Audi's claimed consumption of 8.2 combined.
The 2012 Sportback is a surprisingly engaging drive.
With its staid A6 pedigree and A8-levels of tech wizardry inside, it doesn't exactly scream fun. But it is. It can hit 100km/h in 5.6 seconds and tops out at a governed 250km/h.
Testing cars in autumn is fraught - aside from the obvious problems of it being a bit chilly in the mornings (yes, Otago, we know it's colder down there), there's infinitely changeable weather, which usually means rain.
After picking up the $152,400 supercharged three-litre Sportback this week, I made the obvious error of looking at the Auckland sky and thinking the weather wasn't going to turn to custard.
Of course, it did, and it did it well.
Torrential was probably a wild understatement and at times the amount of water would, with a lesser vehicle, have made giving it the good old Kiwi back-road shove pretty dicey indeed.
The Quattro system that's kept Audi tin on the road since the halcyon days of rallying when Hannu Mikkola and Michele Mouton proved the four wheel drive system has continued to amaze, and even in a car that's 1860kg dry, it's stunningly agile.
There's 220kW from the TFSI petrol version as tested, and the diesel Quattro model at around 180kW but with 500Nm of torque over the petrol's 440Nm.
Putting the bulk of this power to the ground on wet, uneven Kiwi roads, with surprises lurking around every corner, generally requires a couple of brave pills.
But the confidence inspired by the Quattro system and its tricky centre diff means this quite large car can be used at maximum attack without fear.
Understeer is virtually non-existent considering the four-wheel-drive underpinnings, although very tight corners from low speed do make the car sledge a touch if you're too enthusiastic on the accelerator.
But it's a big machine, and between the host of traction systems and the seven-speed dual-clutch robotic gearbox, it's got a lot to cope with.
Adjusting the cars settings on the front-mounted LCD panel enables changes from comfort through to dynamic (read: couch through to fast) or a combination of the two to tailor the A7's seat-of-the-pants experience to suit how you want to drive.
In dynamic mode, the car simply settles down as the adaptive air suspension tightens up, the steering gets delightfully stiffer, giving significantly better feedback through the small S Line wheel, and it's all on.
This car bridges a gap that didn't ever really exist, but offers a better feel than the A6 stablemate, without sacrificing the advantages of an interior capable of carting around a group of adults in comfort.
And if the 220kW isn't enough to sate the frustrated rally driver in you, there are S and RS models a bit further up the Audi tree.